This BBC Drama Was Born Of One Of The Most Pervasive Myths Of University Life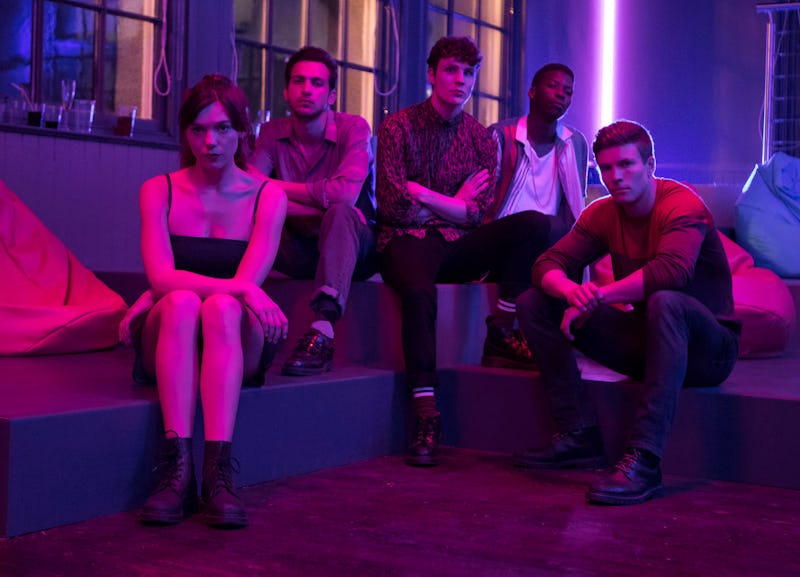 Clique/BBC
BBC Three's psychological thriller based in a uni is far more intense than any uni you went to, yet also manages to hit on a lot of fairly taboo themes. So good on them really. Consent? They cover it. Toxic masculinity? They cover it. Extreme populist political views? It's all in the spotlight. So after a successful first and second season, will there be a Clique season three?
Well, nothing has been announced yet. Bustle reached out to the BBC for any info on potential future seasons and will update this if we receive a response. But considering how much of a hit this show has already been, it would not be surprising if they went in for another dose of the drama, am I right?
The show, launched back in 2017 and has been a huge hit. From the mind of Skins writer Jess Brittain, the story is inspired by the trauma Brittain felt when she was in university. As the BBC reports, Brittain has stated she is basically still reeling from those tumultuous times.
"It started with having a slightly weird and discombobulated time at University myself. We're repeatedly told as teens that Uni will be the best years of our lives. So when you find yourself lost and wrong-footed it's almost shameful."
Clique is a more honest look at what uni is like for most people. OK, maybe not an entirely honest and maybe a slightly dramatised version, but lots of people can identify with university being low key crap. I for one didn't have the crazy uni style life until AFTER I graduated. Your late teens and early twenties are basically formative AF right?
Well, in this show they sure as heck are. And the stories shown are super dark and unpleasant. Take for example in the first season where the protagonists, two childhood BFFs Holly and Georgia, go to uni together and feel a split when Georgia is low key recruited into some nuts company called Solasta that turns out to have a lot more roles involved than she had expected. And when I say roles, I mean objectification and throwing consent out the window. Poor old Georgia was completely seduced by a clique of the company's female interns. The show follows Holly as she tries to destroy the sinister organisation and save her bestie. Oh and it gets worse but let's not spoil the storyline for you, it's still on iPlayer after all.
The second season has a slightly different narrative but remains super messed up. Guys this uni is intense. So, moving away from the first season's themes, this one goes head first into issues like toxic masculinity, the rise of alt-right politics, and sexual assault. Bloomin heck. They are not messing about are they? Last season was female focussed, but this season leaves the clique behind and focuses on a group of blokes. I know, grim, but far right views are a reality in contemporary society and a difficult issue that needs to be tackled.
Speaking to the BBC, Brittain explained her decision to make this season more male focussed.
"I'm reticent to say that men's stories aren't being told but I do think there is some truth in that. It wasn't as simple as 'okay, I've done the ladies, now I'll do the men.' It was more seeing what was going on around me. I know men who are left-leaning and progressive, not scary Trumpian right-wingers, who feel frustrated and anxious about the narrative that has emerged as women push for change."
With all these complex and controversial issues, you can understand why the show is being described by the BBC as a cross between Skins and Gossip Girl. And if that description isn't enough to get you hooked, just watch the show.