Why It's Too Soon To Tell If This Netflix Cooking Show Will Return For Season 2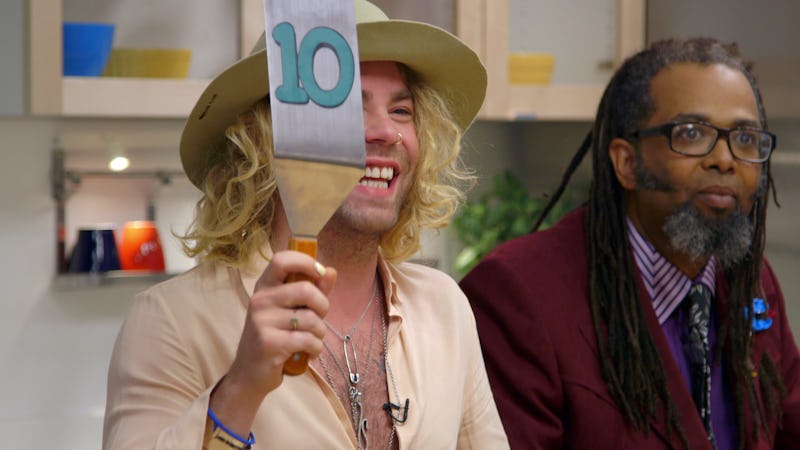 Courtesy of Netflix
It's 4:20 somewhere! Joining the ranks of more traditional culinary offerings like Chef's Table, Cooked, and Ugly Delicious, Netflix released its newest joint, Cooking on High, on June 22. The cannabis kitchen show features two chefs who face off against each other to see who can make the better Mary Jane-based dish. Their food is then critiqued by celebrity judges who get more and more high-spirited as the competition progresses. Fans of the show and its unique premise are likely wondering: Will Cooking on High return for Season 2?
VICELAND already jumped on the weed wagon with programs like Bong Appétit and Weediquette, and now Netflix joins the ranks with the similarly irreverent Cooking on High. This is one of Netflix's first forays into the controversial topic, other than its short-lived comedy Disjointed, which starred Kathy Bates as the owner of a weed dispensary. But as recreational marijuana is becoming less stigmatized, it seems only natural that the streaming platform would tap into this strain of entertainment.
What's more, in some regions, edibles are starting to be seen as an art. In 2017, the New Yorker's Lizzie Widdicombe profiled food writer Laurie Wolf, whom she described as "the Martha Stewart of marijuana edibles." Yes, they've come a long way from the traditional college dorm fare of pot brownies.
And although weed is only legal in nine states and Washington, D.C., according to Vox, it's been wafting into the mainstream, with the rise of vape pens, commercial edibles, and medical marijuana. What's more, on June 19, Canadian Prime Minister Justin Trudeau announced via Twitter that weed had just been legalized across Canada. "It's been too easy for our kids to get marijuana — and for criminals to reap the profits," he tweeted. "Today, we change that. Our plan to legalize & regulate marijuana just passed the Senate. #PromiseKept."
As for Cooking on High, the Netflix show was produced by Stage 13, which is an original content brand from Warner Bros. Cooking on High is hosted by comedic YouTube personality Josh Leyva. Comedian Ngaio Bealum also appears as the program's resident cannabis expert, who is referred to as a "chronnissuer" in his Stage 13 bio.
Along with Bealum and Leyva, the show also features celebrity judges like musician Mod Sun, rap group Warm Brew, and comedian Sam Jay, among others. "I think I wanna be the Simon Cowell of edible marijuana," one judge, Chris Bryant, states in the show's trailer on Netflix. It's clear that this is nothing like the highbrow Chef's Table — Cooking on High is about making making stoner-friendly dishes and having a blast while doing so. "I had a lot of stuff," a judge named Heather Pasternak says in the trailer. "It is getting wild in here."
Cooking on High even discusses the particular strains that the chefs will be incorporating. "It's an Amnesia Haze," Bealum explains in the trailer as the camera zooms in on various buds of marijuana. "OG Kush." "Girl Scout Cookies."
"How do they come up with the names?" one of the judges asks.
"You just make 'em up," Bealum shrugs.
So will there be a second season of this stoner competition series? It's too soon to tell. Cooking on High was only just announced in late May — a month ahead of its premiere — so it's unlikely audiences will hear any news for a while.
However, with the success of Netflix's other comedic cooking show, Nailed It!, there looks to be an audience for culinary programs that don't take themselves too seriously. And although it's competitive in nature, Cooking on High also looks supremely chill. Not to mention that Nailed It!, which just debuted in March of this year, is already coming back for Season 2 on June 29, so perhaps Cooking on High will have an equally quick turnaround.
But whether Cooking on High returns for Season 2 or not, fans can tune in to Netflix now for some supremely dank competition.