This Doc Will Give You New Appreciation For Your Diploma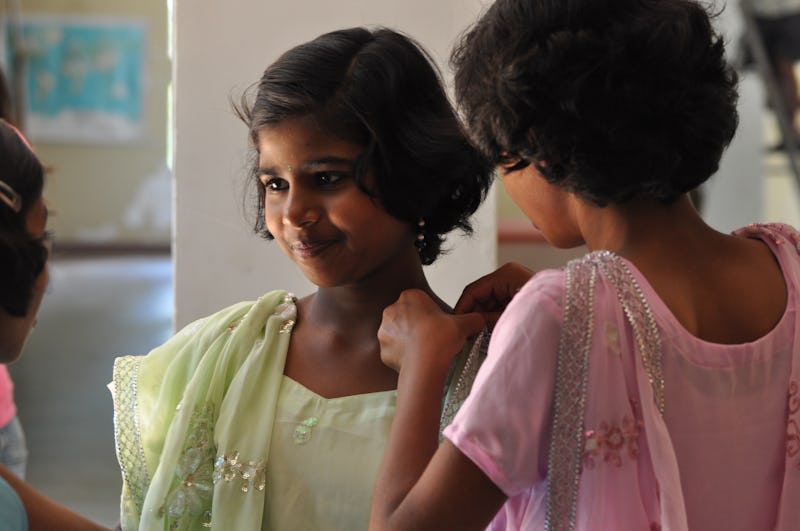 Vanessa Roth/Netflix
For some, education in India is an unattainable privilege. The Netflix documentary series Daughters of Destiny features young women who, as members of the country's "untouchable" population, would normally be prevented from going to school. The series offers inspiring stories of perseverance. And if Daughters of Destiny returned for Season 2, it would surely be able to tell many more.
To push back against India's social caste system, a boarding school called Shanti Bhavan is hoping to improve the living conditions and future prospects of its students. Samaritan Mag, a publication that highlights good deeds to improve conditions throughout the world, reports that Shanti Bhavan provides its students not only with schooling, but with food, housing, medical care, and even clothing, from the time they are admitted until they graduate.
In Daughters Of Destiny, filmmaker Vanessa Roth follows the lives of five young women from India's poverty-stricken Dalit population. According to the non-profit Redress, the Dalit population still carries the stigma of being at the bottom of the Hindu caste system, resulting in appalling living conditions, poor or no healthcare, and little if any education. The young girls in the documentary are given the opportunity to attend Shanti Bhavan, which provides them with an opportunity to push against their society's expectations.
But in order to receive this life-altering schooling, the girls must move away from their families. In an interview with Vogue, Roth, a mother of three, tried to imagine the difficulty of this sacrifice. "In my own mind, I can't imagine saying goodbye to my 4-year-old for that stretch of time," Roth said. "But the circumstances of my life are so different from the circumstances of these moms who are working in quarries and making matchboxes."
But their hopes and dreams outweigh this risk. In the Daughters of Destiny trailer, the young women express their desire not to take their education for granted and to improve their families and communities once they finish school.
As of now, Netflix has yet to confirm a second season for Daughters of Destiny, but these initial four episodes illustrate the importance of understanding the education gap that still exist around the world. In showing the journeys of these young girls, Daughters of Destiny could set a precedent for a potential second season where audiences can see additional stories of young women hoping to better their situations.
The documentary hopes to capture the sacrifice, determination, and struggle these young women must endure in order to pull themselves out of their socioeconomic situations. Even without a confirmed second season, Daughters of Destiny is bringing to light new voices and perspectives, and hopefully a conversation, about the role educating girls plays in pulling communities out of poverty.