Why You Don't Have To Be From Michigan To Love Comedy Central's 'Detroiters'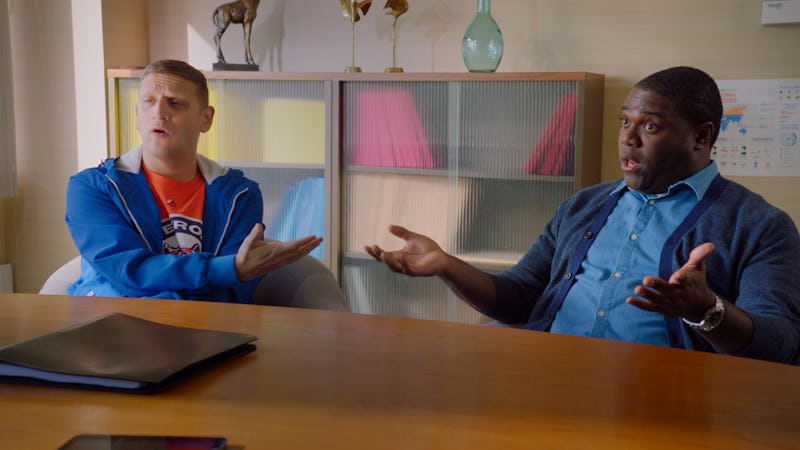 Comedy Central
What if Mad Men were set not in 1950s New York but modern-day Detroit? And what if, instead of the prickly wunderkind Don Draper, the protagonists were two lovable doofuses? Comedy Central's comedy Detroiters centers around two best friends, Sam Duvet (Sam Richardson) and Tim Cramblin (Tim Robinson), who live in Motor City. Tim inherits his father's advertising business after the elder Cramblin succumbs to mental illness, so Tim and his best pal are forced to teach themselves the ropes. While the two buddies aren't great at what they do, they make up for it with heart. Season 2 wraps up Thursday night at 10:30 p.m. ET, so fans of the show may be scrambling to see if Detroiters is coming back for Season 3.
But first, it's important to have some background on the show. Richardson is most recognizable for his role on HBO's irreverent political comedy, Veep, where he plays an affable, oblivious White House aide named Richard Splett. As for Robinson, fans may recognize the comedian from Saturday Night Live, where he was a featured player for one season and a writer for about four years. The two comedians are both Detroit natives, and they met at the local comedy troupe, Second City. According to an interview they did with Uproxx last year, they met comedian Jason Sudeikis at Second City, and he suggested that they create a TV show. Sudeikis serves as one of the many executive producers on Detroiters, alongside Lorne Michaels.
In the same Uproxx interview, the pair explained their inspiration for the show. "We were like, 'Well, what's the show going to be about? It's gotta be about Detroit,' because we are such avid pro-Detroit people," Richardson said. "It's all we talk about. When we were in Chicago, people would get annoyed like, 'Yeah, we get it, Sam and Tim. You're from Detroit. Cool.'"
However, the pair don't shy away from their hometown's flaws, either. "I don't think we lie about the city," Richardson told Uproxx. "I think there's a scene in there where somebody's like, 'We're supposed to walk.' They're like, 'Walk? Don't walk. Take a cab. Don't walk.'" In an interview with Detroit's Metro Times, Richardson said, "One of the most important things for us was to show how Detroit isn't shown typically. So many TV shows show it in this negative light, and we just wanted to show the Detroit that we know. There's so much ruin porn."
The city is known to many for its financial collapse and eventual government loans. In 2009, President Obama decided that the government would bail out both Chrysler and General Motors, per Forbes. These car companies are both based in Detroit (along with Ford, which didn't participate in the bailout) and have since paid back the U.S. Treasury, per the same report. What's more, according to another Forbes article, the city itself filed for Chapter 9 bankruptcy in July 2013, with about $18-$20 billion in debt. After this, Emergency Manager Kevyn Orr came up with a financial plan and cut about $7 billion from the city's debt, per Forbes.
However, things are starting looking up for Motown. Dan Gilbert (founder of Quicken Loans) and Mike Illitch (founder of Little Caesar's Pizza and owner of both the Detroit Tigers and Red Wings) have invested significant amounts of money into their hometown — this also according to Forbes. And both of these men's businesses feature in the Comedy Central show. Little Caesar's, for instance, is depicted in Season 2, Episode 9, when Sam is hit in the back of the head with a football and inspires a commercial for the company.
For these reasons, both Richardson and Robinson were eager to portray Detroit as a town on the come-up. Not only does a quick glance at the show's IMDb reveal that the majority of its actors hail from the Motor City, but its storylines feel very authentic. In Season 1, Episode 6, for instance, a new tech start-up moves into the same building as their advertising agency, Cramblin-Duvet. And although both Sam and Tim scoff at their trendy new offices and matching orange hoodies, they reluctantly admit to each other that it's good for the city. Even Mort Crim, the local TV anchor that the duo are so enamored with, was a real anchor on Detroit's WDIV, per the Detroit Free Press. Tim's wife, Chrissy (Shawntay Dalon), works on the mainline at a local car plant.
But Detroiters is more than just a loving portrayal of the city — it's also one of the funniest shows on television. Fans of the series will recall Tim's prolonged, guttural noises after getting punched in the stomach at Sam's father's 60th birthday party. Or Sam's hilarious Jefferson Porger Menswear commercial, with his casual, "oh, hey" glances at the camera. And who could forget their music video submission for the "Summer in the D" contest? Richardson and Robinson's chemistry radiates off the screen, and it's clear that they're genuinely best friends (which they are).
So while it's simply too soon to tell whether Detroiters will be coming back for a third time, as Comedy Central hasn't made an announcement, the good news is that there's one episode left in Season 2. And hopefully, the comedy will be renewed, because Sam and Tim still need to best their professional rivals at Doner. The pair are the ad kings of De2roit, after all.