Will Donald Trump Have An Inauguration Ball?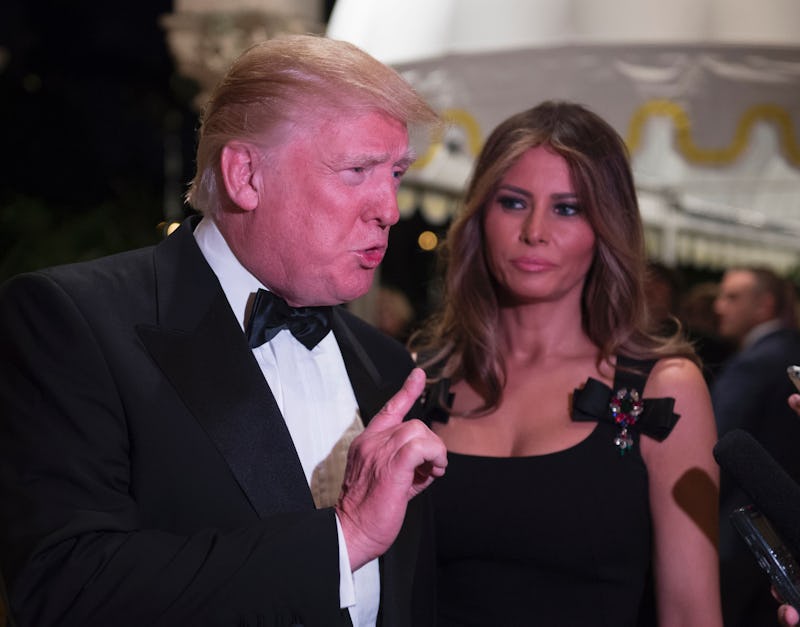 DON EMMERT/AFP/Getty Images
With the Donald Trumps' inauguration only two weeks away, there has been a lot of speculation about the events being held in honor of the new president, especially in terms of who will attend and perform. One major question is "will Donald Trump have an inauguration ball?" The quick answer is "yes." He'll be attending several, in fact, although considerably fewer than our last two presidents. The details of these events, however, remain decidedly fuzzy.
ABC News reports that the inaugural events will kick off on Thursday, Jan. 19, with Trump attending a wreath laying ceremony at Arlington National Cemetery. The ceremony will be followed by the "Make America Great Again! Welcome Celebration" at the Lincoln Memorial, featuring a speech by Trump and a concert. On Friday, Jan. 20, opening remarks for the swearing-in ceremony will begin at 11:30 a.m., and Trump will take the oath of office at noon. The ceremony will be followed by a parade that will travel from the Capitol to the White House.
And then, the balls. Trump's Inaugural Committee chairman Tom Barrack told ABC News,
The balls are kind of a confusing quagmire because the states themselves have their own celebratory events. We'll have basically three balls. Two in the [Washington] Convention Center, one called the Commander in Chief ball, which is a traditional military ball. And then we'll have a series of private dinners.
Previous presidents have attended significantly more than three balls for their inaugurations. Barack Obama, for example, attended 10 for his 2008 inauguration, and George W. Bush attended eight for his first inauguration in 2000.
Three entertainers — 16-year-old Jackie Evancho, the Mormon Tabernacle Choir, and the Rockettes — have been confirmed for the inauguration, albeit amid controversy and speculation that the inaugural committee is struggling to attract A-list stars. However, these three are scheduled to perform during the inauguration ceremonies, not the inaugural balls.
At this point, there is not much information available about the three official inaugural balls to be attended by Trump. The Presidential Inaugural Committee website says that the official balls "will feature dancing and entertaining, as well as an appearance by President and First Lady Trump, and Vice President and Mrs. Pence." Tickets will be required, though details about acquiring them have not yet been announced.
In addition to the official balls, there will be a variety of unofficial inaugural events held in Washington D.C. on Jan. 20. One of these, the All American Ball, will feature country singer Beau Davidson and an '80s cover band called "The Reagan Years." Organizers of the Great America Alliance Inaugural Gala, a pre-inaugural ball to be held on Jan. 19, announced yesterday that country duo Big & Rich would be performing at their event.