Here's What You Need To Know About Drake's UK Tour Plans For 2019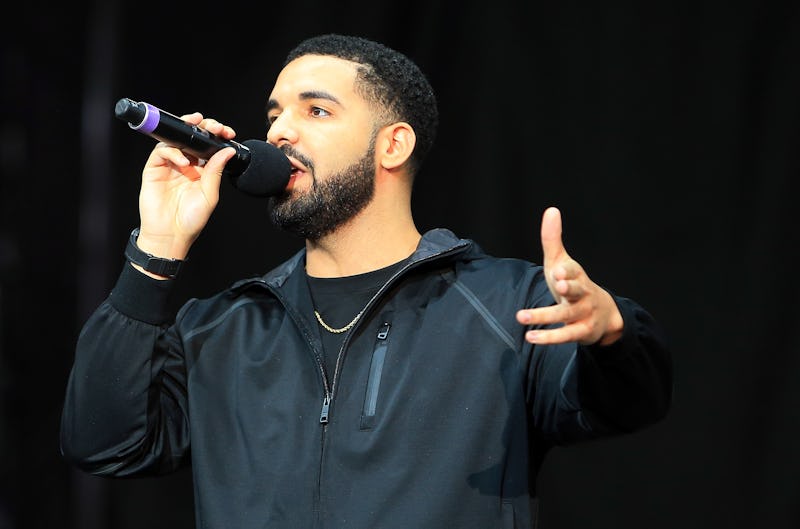 Vaughn Ridley/Getty Images Sport/Getty Images
2019 seems to be shaping up to the year of massive music tours. From the Spice Girls giving us all we have ever wanted in a reunion tour during the summer of 2019, to Ed Sheeran announcing he has added dates to his monumental seven month European tour, it seems it will be a year of good music. However, some fans have noticed an absence of one hitmaker on the UK scene this year. So, will Drake tour in the UK in 2019? The "Nice For What" rapper will finish his latest tour in Atlanta on Nov. 26 but UK fans are wondering if he will be bringing his new music to the UK anytime soon.
Drake announced his North American Aubrey and the Three Migos tour earlier this year. The massive 41 date extravaganza started in Salt Lake City on July 26 and will finish at the end of November in Atlanta. Exhibiting the music on his latest album, Scorpion fans have gone wild on social media for the clips he has put out from the shows. However, Aubrey and the Three Migos tour stayed firmly in the U.S. and didn't feature any dates in the UK. It also doesn't look like there are any firm plans for him to come to the UK as of yet. Bustle have reached out to his publicist for comment.
Well, they say the devil works hard but it seems that Drake's fans work even harder. The desire for a UK tour is high, with fans taking to social media to plead with the "Gods Plan" star to come back to Britain. And there has been speculation that this may happen in 2019. One music blog, Vividseats wrote, "Drake is a prolific summer tour staple, hitting the road either solo or as a co-headliner every year since 2012. Expect him to return to the tour scene in 2019." Similarly StubHub suggested that it would make sense as Drake comes to the end of his U.S. tour he may come to the UK is January or February 2019. The last time Drake came to the UK was for his Boy Meets World tour in Jan 2017. In fact, his last UK tour — which saw him bring in special guests like Travis Scott, Skepta, and Nicki Minja — was so well received it seems like it makes sense for him to tour with the album Scorpion in the UK in 2019.
Released in June 2018, Scorpion has made waves amongst Drake's fans. Not least because on the track "Emotionless" he breaks the silence on becoming a father to a baby boy, Adonis with French artist Sophie Brussaux. In the song he says, "I wasn't hiding my kid from the world I was hiding the world from my kid." Since going on tour he has opened up about how fatherhood has affected him. Speaking to long time pal and basketball legend LeBron James in his HBO series The Shop, he said "I'm just excited, (I am drawing on) all of the things I've learned from and through my father and the incredible things I've learned through my mother about patience, about unconditional love." Very sweet. But will time with his son mean less time on the road?
Whilst there is no confirmation that the "Hotline Bling" rap star will be touring in the UK in 2019 it has been a long while since he played here. If it was down to the pleas of fans alone he would be here in a heartbeat. However, in the meantime you can put an alert on Ticketmaster so you'll be the first to know if he does plan on making 2019 an even better year in music.