What You Need To Know About Drake's UK Touring Plans Post-'Scorpion' Release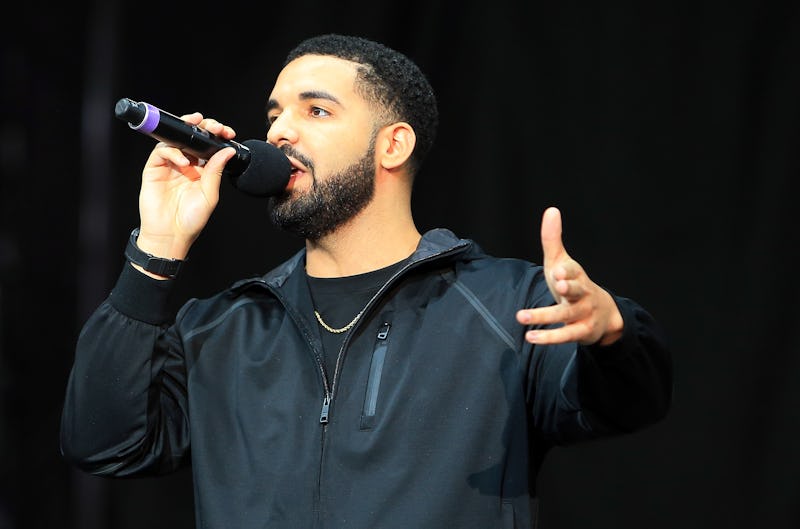 Vaughn Ridley/Getty Images Sport/Getty Images
At the end of June, Drake dropped his fifth studio album, Scorpion. Have you heard it yet? One word; wow. Just, wow. Now, like me, a lot of his British fans are now wondering if a Drake 2018 UK tour is the works. I mean, these tracks need to be heard live, people.
Well, Drake is actually on tour at the moment with hip-hop trio Migos. However, all foreseeable future shows appear to be scheduled solely in the US. Annoying, I know. But there could be a chance he's going to surprise British fans. It wouldn't b the first time now, would it? Remember when he made a completely unexpected appearance during a Section Boyz gig a few years back? Exactly. So if you ask me, the future's hopeful.
I haven't seen any solid news regarding a solo tour supporting Scorpion, but I've done some digging for clues that maybe a tour is on the cards. I'm pleased to report, it's good news.
Firstly, let me start off by talking a little about Scorpion. It's breaking serious records, and is fast becoming Drake's most successful album to date. According to Billboard, the album has already broken the US one-week streaming record in just three days. Three days. Meanwhile, upon its release, the iconic single God's Plan broke Apple's first-day streaming record in January. As it stands, Scorpion is also "set to debut at No. 1 on the Billboard 200 albums chart" on July 14. If this is the case, Scorpion will be the musicians's "eighth chart topper in-a-row." Talk about legendary — Drake is absolutely slaying the music industry RN.
So, what's stopping Drake from at least announcing something regarding plans to visit the UK? Absolutely nothing. In fact, he and his team could very well be planning a tour on British soil right now. I mean, he did suspiciously drop an exclusive piece of f merch on Monday, which could be a sign. In case you're wondering, it's a jacket and it's currently the only item currently on Drake's online store. The piece is not only a dope fashion statement, but it can also be personalised too. That's right, you can have your name under "executive produced by", making you truly feel like part of the musician's entourage.
This jacket will make for one lit outfit for a future gig, and going by the back of the jacket, this could be happening sooner than you think. On the back of the garment, the text "TOUR TWENTY EIGHTEEN" is printed underneath the album logo. Yes, 2018 — you see where I'm going with this.
Yeah, of course, this could be in relation to the artist's tour with Migos. But if it is, surely it would have the name of that tour — Aubrey & The Three Migos Tour LIVE! — rather than just the title of Drake's record. Hmm.
If you want to be one of the first people to know when Drake does announce his next UK tour, sign up for Ticket Master's ticket alerts. By simply filling in your email address and post code, the website will notify you as soon as tickets drop for a Drake gig in the UK.
Drake's current tour with Migos has a pretty hefty schedule, but the tour ends in Atlanta on November 17. Who's to say he can't begin the Scorpion tour in late November or early December? And he could easily start that tour in the UK. It's not unheard of, I mean, Beyoncé and Jay-Z recently kicked off their tour in Cardiff's Principality Stadium on June 6. Drake's last tour, Boy Meets World, also began in the UK in 2017... kind of. It actually started in Amsterdam on January 28, but went straight to the UK for dates at the end of January and through February.
So maybe, just maybe, if the UK doesn't see a tour at the end of 2018, Drake might follow the set-up of his last tour and come back to the UK early in 2019. I can't guarantee this will happen, but by the looks of things, fans on Twitter sure hope that this is the case.
It's all about keeping your eyes peeled, listening to the 25-track double album (I know, heaven) repeatedly, and just hoping, praying, and waiting with bated breath for a tour to be announced.
I mean, if Childish Gambino can announce a one-off show in the UK off the back of one single, Drake can certainly give UK fans what they are craving.