Drake's 'Scorpion' Just Broke A Major Streaming Record & There Could Be More To Come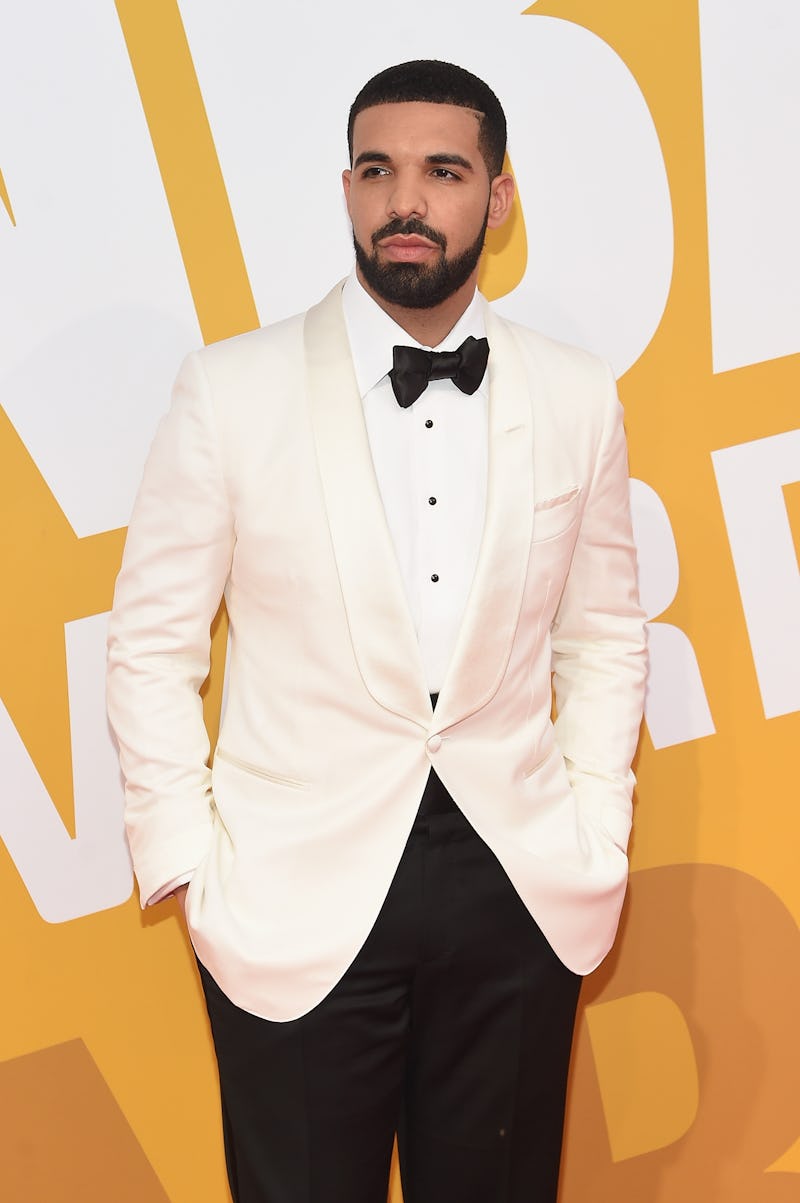 Jamie McCarthy/Getty Images Entertainment/Getty Images
It's been a month of headline-making for Drake, and the rapper finally dropped his latest album. Drake's Scorpion already broke single-day streaming records, and is in a good position to have the most-streamed week in music history. The highly anticipated album shattered records on both Apple Music and Spotify, breaking a record held by the star's last album, More Life. According to the Associated Press, Scorpion got 170 million streams worldwide in the first 24 hours on Apple Music. Spotify streams were over 132 million in the first 24 hours, according to Rolling Stone. These shocking numbers put the album on track to hit over a billion streams for its first week, which would set yet another record.
The 25-track album already features two chart-topping singles, including the God's Plan and Nice For What. Drake's latest effort also boasts several notable collaborations, including JAY-Z and Ty Dolla $ign. There's even a track that features a previously unreleased Michael Jackson sample, and one with vocals by Mariah Carey. It's bound to be one of the major releases of the year, and given the hype around the album and the initial streaming numbers, Scorpion is expected to debut at No. 1 on the Billboard 200 Charts. "God's Plan", the first single from the release, peaked at No.1 on the charts in March, and it was the rapper's 21st chart-topping song.
Scorpion's ranking on the charts will be impacted by Billboard's new weighting system. In 2017, Billboard announced a shift in how streaming would rank albums in 2018. The publication puts more emphasis on paid subscription streams with ad-supported activity, in an effort to better reflect how streaming music performs compared to other releases. Starting in 2018, plays on paid services such as Amazon Music or Apple Music and the premium subscriptions of services such as Spotify are given more weight than those from free platforms like YouTube. Even with these changes, Drake's latest release is likely to be without competition for the chart's top position.
Despite streaming changing how music is consumed, Scorpion is likely to make significant sales. According to Hip Hop N' More, the record is projected to sell 870 to 900 thousand copies in the first week. This means the album will nearly go platinum, a certification given to records that sell a million units.
In the meantime, streaming services went all-in with promotion for the album. Apple Music put several Drake features into Siri, and created an entire site that allows fans to upload their own photos to make their own Scorpion album art. The streaming service continues to out-play competition when it comes to rap and hip-hop releases, but Spotify had a concerted effort to drive fans to their platform as well. The album appeared on 30 of its biggest playlists as part of their first global artist takeover, and the album was played over 10 million times every hour after dropping.
Drake touches on a number of personal topics in Scorpion, including his feud with fellow rapper Pusha-T, and his reported infant son, who appears to be the subject of "March 14." Pusha-T alleged in his song "The Story of Adidon" that Drake had a child, and "March 14" very much feels like a response to those allegations. (When Pusha-T's song was released, Bustle had reached out to Drake's rep, but did not receive an immediate response.)
The collective buzz around Scorpion means it's set to break streaming records, many of which Drake set with his previous albums. It's clear the rapper is on an upward trend even if he is reportedly engaged in a rap feud. The record-breaking streaming numbers are just the beginning for the album, which will likely continue to make history and top charts into the week.