Here's Who Might Be In Meghan Markle's Royal Bridal Party For Her Upcoming Wedding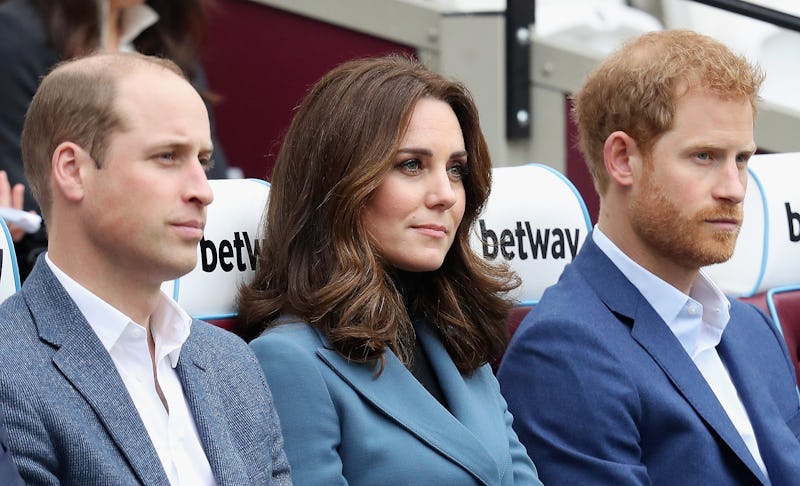 Chris Jackson/Getty Images Entertainment/Getty Images
Earlier today, the British royal family officially confirmed Prince Harry & Meghan Markle's engagement. Pints all around! Details have been trickling in ever since the news first broke, but now that they've set a tentative date (Spring 2018), it's time to get down to the nitty gritty wedding details. Most importantly, if Duchess Kate will be a part of the royal bridal party. There's no way to know yet for sure, but all signs currently point towards ... probably not.
Let's start by taking a look at Prince William and Kate's own 2011 royal nuptials for comparison. According to Phillip B. Crook and Jessie Mooney of Brides, "English brides are accompanied by a group of bridesmaids, usually younger girls between the ages of 10 and 12. The Queen had eight bridesmaids, and Diana had five, ranging in age from 5 to 17." Kate chose younger sister Pippa as her maid of honor (who arguably had the original #BreakTheInternet moment in her slinky Alexander McQueen gown), and William broke tradition by having Harry serve as best man (the groom typically chooses a "supporter" instead). The rest of their wedding party was filled, as per tradition, with an adorable array of royal tiny tots.
Based on this, it's safe to assume that Harry will, in turn, have William serve as his own best man. But what about Meghan? Markle only has one sibling — her infamously estranged, half-sister, Samantha — who has reportedly been working on a memoir about their family, which is tentatively titled The Diary of Princess Pushy's Sister, according to Vanity Fair. Oof.
"Maybe when Meghan is more mature and reads the book she'll understand," Grant told UK tabloid the Daily Star in an exclusive interview. "Some of it she won't like, some of it she might." Samantha's mother, for her part, has said that "Samantha has been dogging [Meghan] for years. Everything she has said about her is a lie." (Bustle reached out to Kensington Palace for comment from Meghan, but has not heard back.)
Based on the reported nature of their relationship (or lack thereof) though, it seems doubtful that Markle will include her half-sister in her wedding. (The jury's still out as to whether or not Grant's outspoken behavior will garner her an invite at all.)
But what about Kate? Could she serve as the substitute maid of honor? According to Jamie Cuccinelli at Brides, "the bridesmaid and maid of honor roles are traditionally reserved for single ladies." This fact further explains why Kate's sister Pippa, who was single at the time of William and Kate's wedding, was able to assume the role of maid of honor role, while Kate, having already been married at the time of Pippa's own wedding earlier this year, did not fulfill the same role for her sister.
Then there's the whole, sharing-of-the-royal-spotlight thing. While the world was wondering if Kate would play a part in Pippa's wedding, royal expert Jude Wade explained to People that, "It's a tricky situation ... [Pippa] would want her sister by her side, as who else would she trust to make things go well? But if your sister is a future Queen, she is going to upstage the bride and draw attention. Kate would want to be in the background as much as possible."
If Kate was willing to take a backseat at her own sister's wedding to prevent overshadowing the bride-to-be, it's hard to imagine that she'd even consider stepping into Meghan's spotlight on her big day with Harry.
So, unfortunately for royal family fans hoping to get a glimpse of Kate trailing Meghan's train, you may just have to settle for some snaps of Kate wrangling Prince George and Princess Charlotte (again) in their tiny royal threads instead.