Why Netflix's 'Easy' Is The Show To Watch When You're Frustrated With The Dating Pool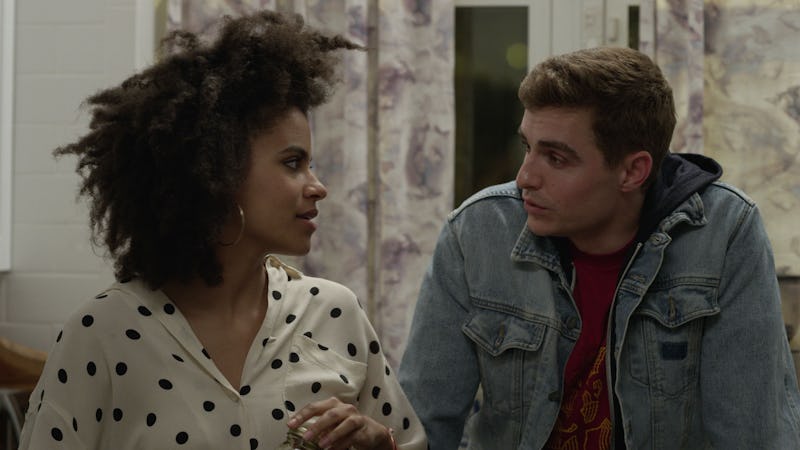 Netflix
After a stellar first season, the anthology series Easy returns to Netflix for Season 2 on Dec. 1. And if you plan on watching all eight, half-hour episodes in one sitting, you're probably already curious about when and if Easy will return for Season 3. Sure, Netflix hasn't made an official announcement yet, but fans shouldn't lose hope for numerous reasons.
In the first place, Season 1 was critically acclaimed and is currently holding at a 94 percent approval rate on Rotten Tomatoes, so it's likely that the show will get renewed. If it does, the third season will premiere in the fall of 2018, as the first and second seasons premiered in September 2016 and December 2017 respectively.
Because the streaming giant doesn't depend as much on corporate advertisements as traditional TV networks do, original series creators can get away with producing more racy content for Netflix. And Easy has absolutely no trouble pushing the envelope when it comes to showing the true-to-life struggles of marriage, dating, and casual sex, which is probably one of the reasons why it is such a hit with millennials. Judging by the trailer, the characters in Season 2 are learning that there's nothing "easy" about love and romance — an important lesson for all of us.
The new season will follow the same format as Season 1, with each episode focusing on a different set of characters and storylines. They can be watched together or as stand-alones. While it's unclear if they'll be reprising their exact roles from Season 1, according to the Hollywood Reporter Kate Micucci, Jane Adams, Zazie Beetz, and Michael Chernus, all from Season 1, will return for Season 2. Additionally Kiersey Clemons, Evan Jonigkeit, Elizabeth Reaser, Jacqueline Toboni, Dave Franco, Aya Cash and Marc Maron will also make appearances. Making their Easy series debuts in Season 2 are Aubrey Plaza, Kate Berlant, Joe Lo Truglio, and Judy Greer, among others.
But other than the cast announcements and release of the tagline "Same City. New Positions," Netflix, the cast, and the series director/creator Joe Swanberg have been pretty tight-lipped about this season and the future of the show in general. "[Easy] will always be genre-defying simply because I could never tell you what the next season would be about," Swanberg said to the Chicago Tribune. "I just know I want it to be about real (if technically fictional) people in real Chicago."
Per the trailer for Season 2, a married couple played by Reaser and Chernus consider going past role-playing to a full-on open marriage. Micucci, who played a Wiggleworms instructor in the first season appears open to starting a new relationship. While Beetz's character struggles to tell her boyfriend, played by Franco, how she really feels.
Swanberg is one of a handful of writer-directors whose style of storytelling can be described as "mumblecore." Mumblecore is a style of low-budget feature filmmaking in which dialogue is improvised — meaning no scripts — and, in some cases, performed by non-professional actors. "I used to hate [that] word", he told The Irish Times in 2014. "But these days I feel it's very lucky. I've been around long enough to realize how helpful it was when the movies were really small with no recognizable actors. Mumblecore became the most famous thing about those movies. At the time it was annoying. But it allowed people to talk about and write about it."
With Swanberg's commitment to making the show as realistic as possible and new material popping up every day on Twitter and Facebook to pull from, it's safe to say that Easy could go on for seasons and seasons. The series is a true testament to how wild and entertaining love can be, and a reminder that no matter how confusing it may feel sometimes, no one is riding the rollercoaster alone.
Editor's note: After publication, we discovered this article did not meet our editorial standards: There were portions that did not correctly attribute another source. It has been updated to meet our standards.