Ed Sheeran Is Making An Experimental Album, So Forget About Those Ballads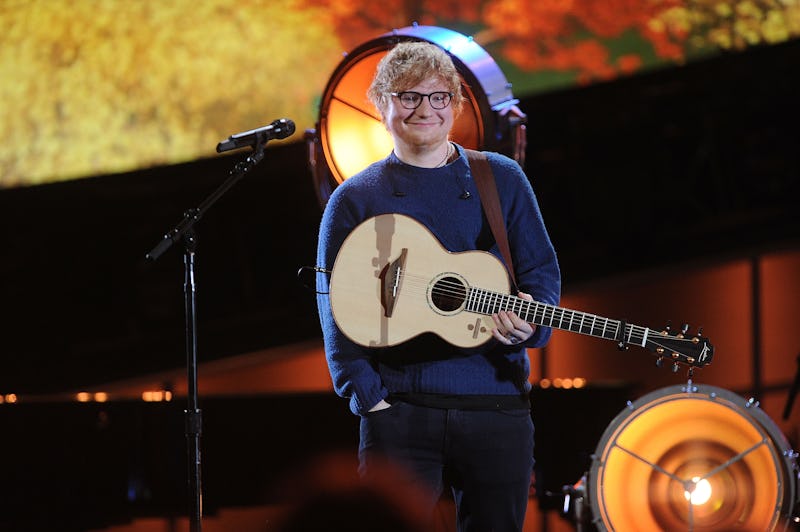 Brad Barket/Getty Images Entertainment/Getty Images
Ed Sheeran's rags to riches story is one of pop music's most successful. He's sold a mindboggling amount of albums, with figures in the millions, and streams in the billions. At this point, the guy could just play "Three Blind Mice" on the kazoo and have it become a worldwide hit. Nevertheless, he's a smart musician whose acoustic guitar-meets-pop-meets-rap has won over the world, but he might be about to shake that formula up. So will Ed Sheeran release a new album in 2019? Well, there's certainly hints of a new album on the way.
After the ridiculous success of his last album Divide, Sheeran's not up to the challenge of competing with himself over album sales. "I feel like it's dangerous to have a career that goes bigger and bigger and bigger and bigger and everything's happening, because at some point it's gonna drop," he said on musician George Ezra's podcast back in February. Instead, for the next record he's going to opt for something more personal, even though he predicts it probably won't make the numbers that his previous albums have. "The next record that I'm making is not a pop album," he told Ezra.
He told The Times in Dec. 2017 that the album would have a lo-fi sound, with inspiration taken from Bruce Springsteen — a recent musical obsession of his. On Ezra's podcast he also cited Coldplay as inspiration for his formula. "My whole career I've studied Coldplay, and Coldplay are f****** geniuses. They did it with 'Ghost Stories'. Ghost Stories was their artistic moment." So, if "The Shape Of You" singer wants to style his next album on Ghost Stories, expect lots of sleepy, tinkly guitars, and a sound that's more Radiohead than Rihanna.
Since his previous albums have all been mathematic symbols — Divide, Multiply, Plus — it's a pretty safe bet that the next will be titled Minus. Or if he is going experimental, maybe it'll be n-th root (radical). But whether or not it'll come in 2019 is anyone's guess. He's been working on it for the past six years, as he told The Sun back in June 2017. "I've been working on this one since the same time as Plus. Every year I write a song that will go on it." Although in that same interview, Sheeran said that the wait might be a little longer than previous gaps between albums. He told The Sun that the album "might be another three of four years in the making", and if that's the case, you might not be able to hear experimental Ed until 2021.
Now that date might be extended even further. As well as the experimental album, in another bizarre turn of events, Sheeran will be starring in a Danny Boyle film according to the Associated Press, which should take up some of his recording time. He'll be playing himself in a film inspired by The Beatles, which I'm yet to really get my head around. "They shot it around loads of my gigs," he reportedly told the outlet. "So it was a very intense two months. Because I would have four days of gigging and then three days of shooting a film. I was playing myself, so I don't think I was that bad. There wasn't much to (mess) up." This must all be some kind of very, very weird dream. Please wake me up.