Ed Sheeran Just Announced He's Engaged & The Photo Will Make Fans So Happy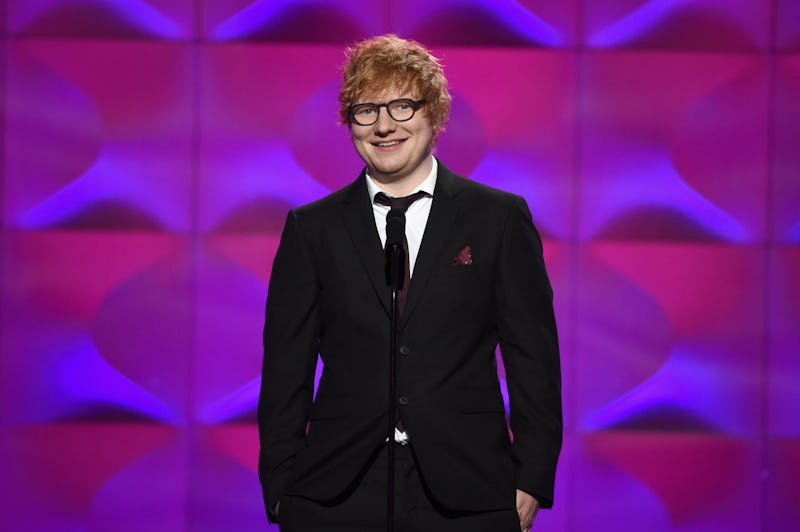 Michael Kovac/Getty Images Entertainment/Getty Images
In news guaranteed to bring some joy to your Saturday, Ed Sheeran is engaged to Cherry Seaborn, his longtime girlfriend. The "Castle On The Hill" singer casually shared the news on Instagram on Saturday, Jan. 20 with an adorable Polaroid photo and hilarious caption involving their cats. (Yes, really.) And as it turns out, the engagement isn't entirely new — it actually happened right before 2017 ended. Sheeran wrote,
"Got myself a fiancé just before new year. We are very happy and in love, and our cats are chuffed as well xx"
It's impressive that someone with as massive a following as Sheeran could keep such major news under-wraps for weeks. But at the same time, it's completely understandable the pair would want to soak in the news and enjoy it with their loved ones before it spread across the internet like wildfire.
As a refresher, Sheeran and Seaborn have been dating since 2015, but their connection goes all the way back to a friendship during their high school days. According to The Mirror, they went to school together in Suffolk. And as some more background on Seaborn, she was a championship hockey player during her college years. Clearly, she and Sheeran both excel at their respective crafts, and support one another along the way.
As for how the two found their way back to each other, in a March 2017 interview, Sheeran told People,
"I've known Cherry since I was 11. She worked on Wall Street in New York, and I had like six shows [around New York in 2015]. It was around then, and we reconnected. I went on tour again, and then I went to Taylor's 4th of July party. I was texting [Seaborn], and she was like, 'I'm in Rhode Island at a 4th of July party,' and I was like, 'So am I.' I kinda said to Taylor, 'Can I invite one of my old schoolmates?' The rest is history."
Leave it to Taylor Swift to be a true pal and play a role in Sheeran's love story. Swift better perform an "Everything Has Changed" duet at the wedding because, well, how could she not?
In case those details about their love story aren't enough to make your heart melt, just wait until you hear this: Sheeran's song "Perfect" is inspired by his now fiancé. In an October 2017 interview with Radio.com, he shared the song's unexpectedly funny backstory:
"We got really hammered and took our shoes off and danced on his lawn and then jumped in the pool. And then the next day I was like, 'that's a cool story,' so I put it in a song."
OK, so that may not be exactly how you thought the situation played out when listening to the track's swoon-worthy lyrics:
"Baby, I'm dancing in the dark with you between my arms
Barefoot on the grass, listening to our favorite song
When you said you looked a mess, I whispered underneath my breath
But you heard it, darling, you look perfect tonight"
But hey, inspiration is inspiration. And when Radio.com asked if Seaborn was "the one," he instantly replied, "Yeah, undoubtedly. Undoubtedly."
Given his star-studded friends list, like Swift and Beyoncé, that wedding will likely be the don't-miss event of the year. The possibilities for beautiful duets and love songs are endless. From "Thinking Out Loud" to "Shape Of You," his songs are practically made for the occasion. And fingers crossed that their cats will be involved in some capacity.
Since the engagement is still new and the wedding is surely a ways away, fans can just focus on congratulating the singer. After all, he's found someone who's quite literally "perfect" for him.