Elodie Yung Doesn't Think It's The End Of Elektra On 'Daredevil'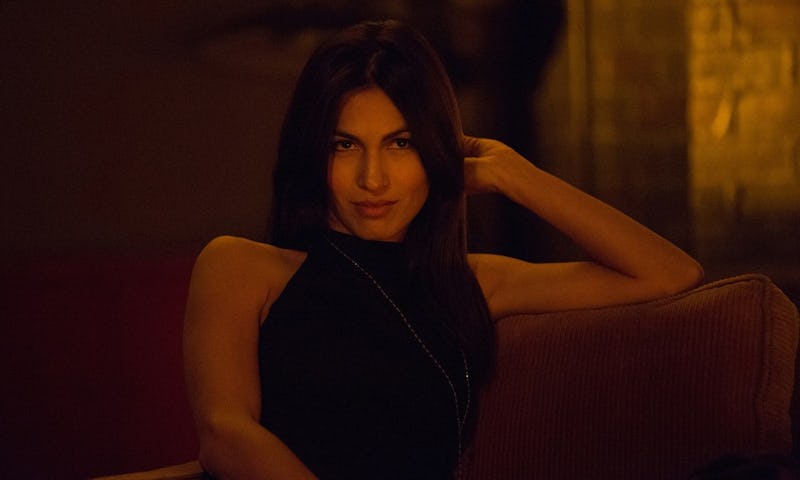 Patrick Harbron/Netflix
At the end of Marvel's The Defenders, both Matt Murdock and Elektra appear to get crushed by the now-crumbled Midland Circle tower. However, in the final few moments of Episode 13, it's revealed that Matt is still alive, though he seems to nursing a pretty serious head wound. But what about Elektra? Did she also manage to survive the accident, and if so, will Elektra be in Daredevil Season 3? Élodie Yung's character still has some unfinished business to settle.
Given Marvel's propensity to keep pivotal plot details under wraps, it's difficult to say with absolute certainty what's become of Matt's former flame. Having a building collapse on you would be a difficult thing to overcome. Then again, this wouldn't be the first time she's cheated death, so having her return wouldn't be all that surprising. It's definitely something that the actor herself was hoping to see happen. During an interview with The Hollywood Reporter shortly after the first season of The Defenders came out, Yung revealed her hopes for her character moving forward and teased that she'd be more than willing to continue her portrayal should the storyline call for it.
"I really like Elektra. It just feels unfinished," Yung stated at the time. "She's done all of that, and now what? Where is she? And he's alive. So I'm hoping their paths will cross again. I want to know where she lives and what she does and if she's enjoying life and all of that. But I don't know what's next for her yet — or if it's the end."
When asked by THR if this could actually be the end, Yung added:
"I hope not! She's such a great female character. She's so crazy and strong and she has so many flaws. You kind of feel for her. I do feel for her. It's not easy to be who she is. There's humanity in there. It would be interesting to explore that again, especially after what just happened. But we'll have to see what Marvel will do with her. I have no clue."
In the time leading up to Season 3, word has spread about who would be joining the cast as well as who would be returning. According to Deadline, Sister Maggie will be played by Joanne Whalley (best known for her roles on The White Princess, Wolf Hall, and Gossip Girl). Meanwhile, Vincent D'Onofrio will return as Season 1 villain Wilson Fisk, while Charlie Cox (Daredevil), Deborah Ann Woll (Karen), and Elden Henson (Foggy) will all be back as well. As for Elektra, her involvement still remains unknown.
But before you get too upset about that fact, it's important to remember that her presence throughout Season 3 could simply be kept under wraps for the time being. Just because it hasn't been officially announced doesn't mean it won't happen. And given the way things came to such an abrupt end for her character, it'd be surprising if she didn't eventually make a comeback. Her story doesn't feel over just yet and hopefully the higher-ups at Marvel agree.