This Elektra Twist Changes Everything On 'The Defenders'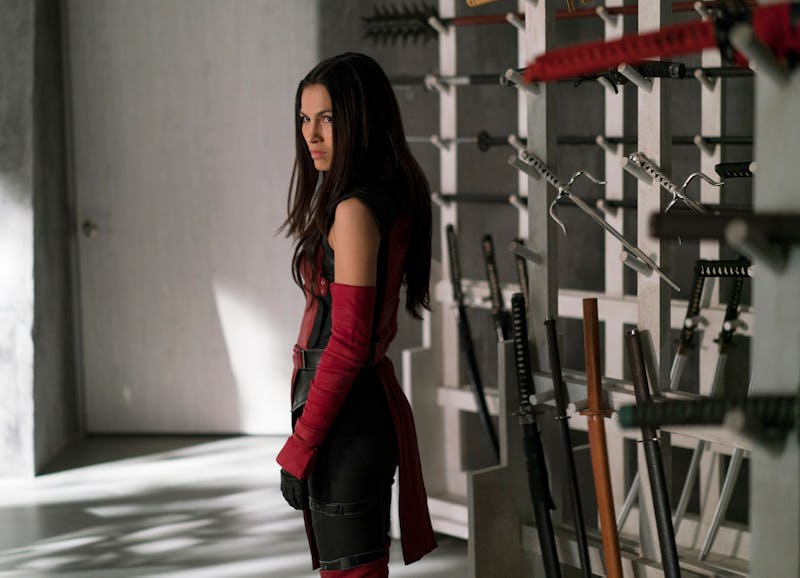 Sarah Shatz/Netflix
Not that Matt Murdock is every really in a great mood, but at the end of Season 2 of Daredevil, he was really in the dumps. After reconnecting with the Bonnie to his Clyde, Elektra Natchios, he lost her. But Matt's loss was the Hand's gain. Elektra was resurrected by the ancient organization to be Black Sky, their human (well, sub-human) secret weapon. And that's exactly the job she's fulfilling when The Defenders begins. Elektra is basically an extension of the Hand, a childlike killing machine with little free will and apparently, no recollection of who she was before. Spoilers for The Defenders Episodes 1-8 beyond this point! But at San Diego Comic-Con, actor Elodie Yung let it slip to Bustle that Elektra will get her memory back on The Defenders.
"Elektra is such a free spirit, a strong woman, that [fans] have to... they can expect that, you know, she will try to recover from whatever form she's been brought back from the death," Yung says.
That's a common pattern with villains, isn't it? They underestimate the human spirit. In early episodes, it's obvious that Alexandra (Sigourney Weaver) believes herself to be in complete control of Black Sky, but Yung's comments indicate that the real Elektra is in there the whole time, fighting back against this unnatural resurrection.
There's also the matter of the warrior remembering what, exactly, she left behind. I'll give you a hint: He wears tinted glasses, knows the law, and should really be nicer to Foggy. Yes, the actor also hints that Elektra's recovery, which really starts to gel in Episode 6, is motivated by her connection to Matt.
"There's always this bond with Matthew that she keeps somehow, you know, somewhere," Young explains. "So this has to make her evolve. I can't say more, I've said too much!"
While relationships are common in the street-level Netflix Marvel universe, epic romantic ideals like this are definitely not. If Elektra's love for Matt can make her a person again after her humanity has been perverted, then the franchise can safely let go of the idea of Karen and Matt really getting together, right? This is earth-moving love, people!
Let's just hope that Matt can forgive Elektra for however many atrocities she committed while serving as the Hand's pseudo-zombie assassin. But it's those memories that might be the ones neither of them can forget.
Additional reporting by Kelsea Stahler