Why This Teen Drama Will Likely Become Your New Netflix Staple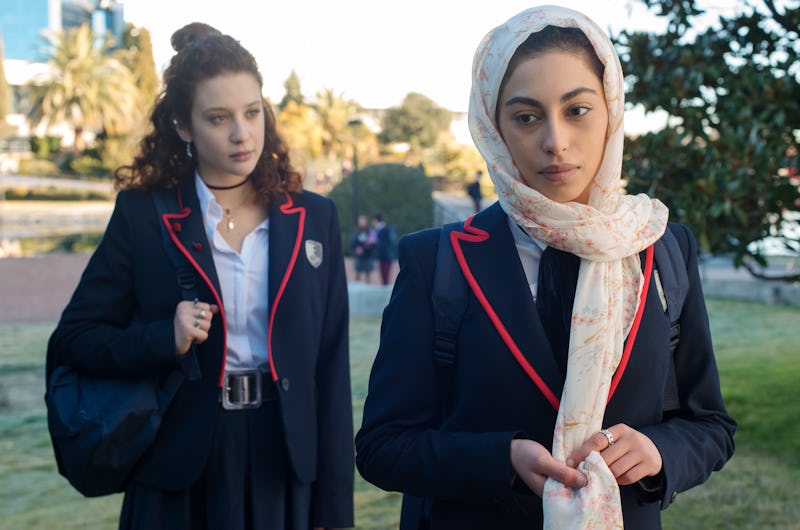 Manuel Fernandez-Valdes/Netflix
School is in session. And by school, I specifically mean Las Encinas, the fancy Spanish prep school at the center of the new Netflix original thriller series, Elite, which premieres Oct. 5. One of the streaming giant's latest additions of international content, Elite follows the story of three lower-income transfer students that suddenly find themselves thrown into the cutthroat world of upper class preppiness. Oh, and there's a murder mystery mixed in there, too. It already sounds pretty fantastic, so if you've crammed all eight episodes in a single all-nighter, then you're probably dying to know if Elite will return for Season 2?
Update: On October 17, just two weeks after its release on the streaming network, Netflix announced that Elite would return for a second season. No premiere date has been set.
Unfortunately, it is simply too soon to say for sure. Netflix hasn't released any official statement about Elite Season 2 as of the time this article was published, and I wouldn't expect them to say anything until at least a little while after Season 1's official drop. Netflix plays by their own rules when it comes to renewing series, so even if they don't say anything for a few weeks, that's no reason to start panicking.
At the Television Summer Critics Press Tour this past August, as reported by IGN, Cindy Holland, Netflix's VP of original programming, explained a little about the process of deciding which series Netflix keeps and which to toss. "The biggest thing that we look at is, are we getting enough viewership to justify the cost of the series?" she said. "We also look at other things: how beloved the fan community is, how social a title is. There are lots of other things that we look at that you all can also see out in the world. But we are deliberate and thoughtful, and there are a lot of things that go into the decision." Based on that alone, I'd say that a show with as much social interest as Elite stands a good chance of sticking around for at least a little while longer.
Francisco Ramos, the producer of Elite, told Variety that at the moment, making this show is exactly what he wants to be doing, career-wise. "I am excited at producing Elite at this stage of my career," he said. "This is a lot of fun. With the golden age of series, I can now achieve in TV what I wanted to do with movies in the last few years."
Ramos added that Netflix in particular has been very accommodating when it comes to compromising creative visions. "Producers, directors, and writers can now go back and forth between film and TV," he said. "Netflix especially has been very good in this sense in that that they bring together two different media."
Netflix seems to be right where they want to be, too, when it comes to moving into the international market, especially the Spanish-speaking market. According to Forbes, Spanish series Money Heist (originally called La casa de papel) is actually the most-watched foreign-language series on the streaming platform. The popular period drama, Cable Girls (Las chicas de cable) is already in its Season 3, which just dropped on Sep. 7. Then, of course, there's Colombian mega-hit, Narcos, which will be back with its Season 4 on Nov. 16. Spanish series are flourishing on Netflix right now, so as long as people are watching it all the way through to the end, there's no reason why Elite shouldn't do the same.