Emma Stone Is A Best Actress Frontrunner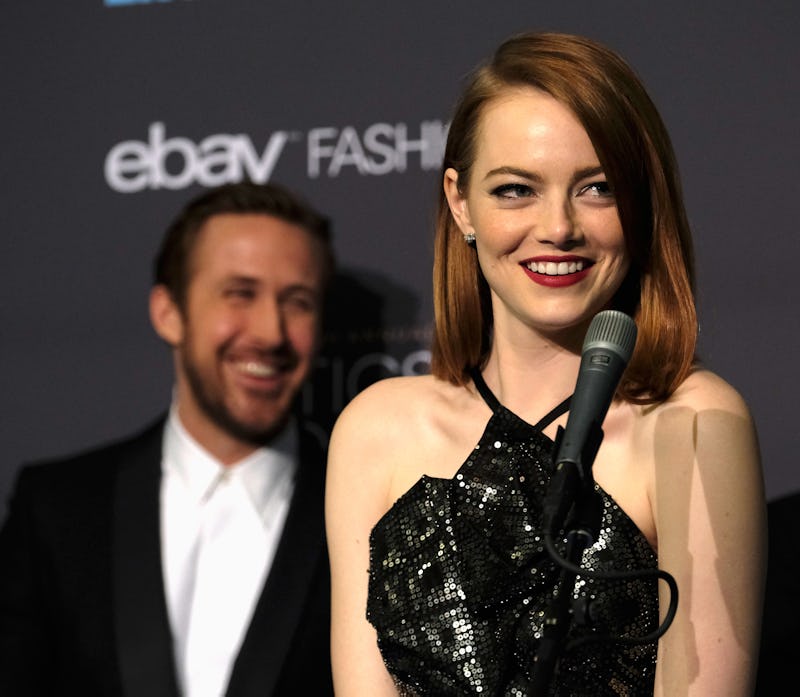 Frazer Harrison/Getty Images Entertainment/Getty Images
In this year's Oscar race, the most crowded category is, by far, Best Actress. The race is filled with deserving performances, from Amy Adams' turn in Arrival to Annette Bening's role in 20th Century Women to Ruth Negga's portrayal in Loving. But despite all that excellent work, the category truly comes down to two people — Jackie's Natalie Portman and La La Land's Emma Stone. Portman has won the award before, for Black Swan, but her competitor has not, and it's definitely possible that, this year, considering that she won the Golden Globe for her role, Emma Stone will win the Best Actress Oscar.
It's not that Portman's chances aren't looking pretty good, because they are. The Jackie star has picked up numerous awards for her must-see portrayal of the former First Lady, and it certainly wouldn't be too much of a surprise to see her walk away with a statue on Oscar night. Yet Stone has always had a slight edge in this year's race, thanks to La La Land's overall reception from the public. While Jackie earned good reviews but was not a huge hit, La La Land was a total crowdpleaser, thrilling critics and audiences alike. It's the frontrunner for Best Picture, and it's hard not to imagine its star, Stone, earning an Oscar for herself, too, especially considering her Globe win.
If Stone does, indeed, win an Oscar for La La Land, it'll be richly deserved. She's simply fantastic as Mia, an aspiring actor who falls in love with Sebastian (Ryan Gosling), a jazz fanatic. Both stars are great in the film, but it's Stone who's mesmerizing, whether she's singing in an audition, dancing with Gosling, or simply staring into the camera with those huge eyes. There was a surplus of amazing film performances by women in 2016, that's true, but Stone's was undoubtedly one of the best.
So while she might have some tough competition at the Academy Awards, I'm fairly confident that Stone will be the Best Actress winner. She better start writing that acceptance speech now.