Esme Squalor May Appear In 'ASOUE' Season 2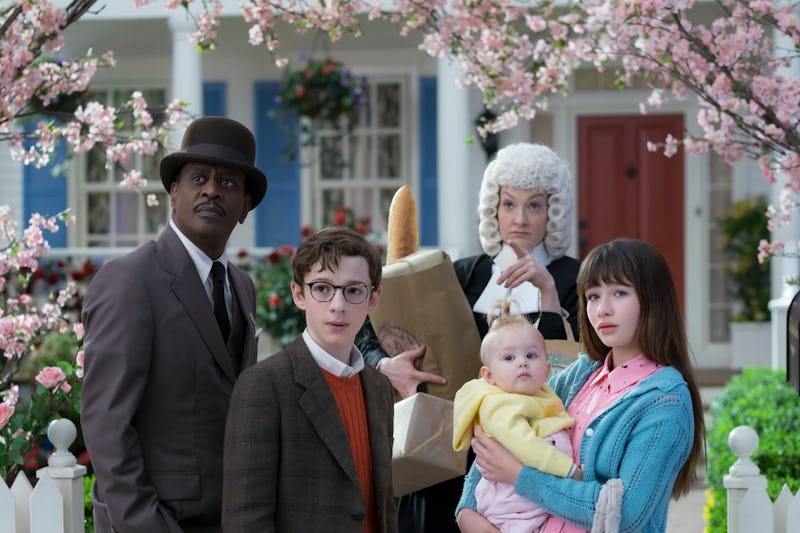 Joe Lederer/Netflix Joe Lederer/Netflix
At first glance, some people may dismiss Netflix's A Series of Unfortunate Events as a series that's best-suited to young children — after all, it's based on series of middle grade books. But, adults who skip the show are seriously missing out, because it's sophisticated, clever, and full of complicated mysteries that will even have adult armchair detectives scratching their heads. Spoilers for Season 1 and the book series ahead. Case in point — we still don't know who is responsible for the multiple cases of arson that occur during Season 1. It certainly appears that Count Olaf set fire to the Baudelaire home, but the Quagmire fire was likely set by Esme Squalor. Of course, viewers didn't see her face and she wasn't introduced until the sixth book — but will Esme Squalor be in Season 2 of A Series of Unfortunate Events?
Although Season 2 hasn't been officially confirmed, things are looking promising — executive producer Barry Sonnenfeld told Variety that scripts are already in the works and they'll cover books five through nine. It seems highly likely that Esme Squalor will be an important character in Season 2 because she's prominently featured in the book series. Although the show has diverged from the books in several ways, I'd be shocked if a major character was eliminated — especially because viewers were given a major hint in the Quagmire fire scene. Whoever set the fire rocked feathers and monochrome gloves while committing arson — and those style choices are suspiciously similar to Esme's.
If you haven't read the book series (or you're understandably rusty after finishing it 10 years ago), there's no time like the present to get acquainted, or re-acquainted, with Esme. Much like Count Olaf, she's an antagonist in the book series — but what sets her apart is that she's seriously stylish. Her trademark look is the feather plume, so the Quagmire fire scene seems like a major hint that she'll grace our small screens in Season 2.
Esme's top priority is following the trends — so she follows a life of crime because it seems "in" at the moment. She becomes romantically involved with Count Olaf for a period of time and, although he eventually leaves her due to obsession with fashion and status, they're partners in crime before their relationship sours. When she learns that orphans are "in," she eagerly takes in the Baudelaire children — so, Violet, Klaus, and Sunny will likely be subjected to yet another sinister guardian in Season 2. (These kids cannot catch a break.)
Of course, once she decides that orphans are "out," Esme makes life even more miserable for the Baudelaires — but we can always count on them to outsmart even the most sly villains, so I hope we get to see the showdown between Esme and the Baudelaire children in Season 2.
Not only is she central to the plot, but Esme will be perfect for the Netflix adaptation — her hilariously over-the-top clothing choices and behavior will fit in perfectly with this delightfully quirky series. So, although nothing is confirmed, I think it's safe to assume that Esme will be in Season 2 — and this time we'll get to see more than just a plumed feather hat and white gloves.