The Future Of 'Fargo' Is In Doubt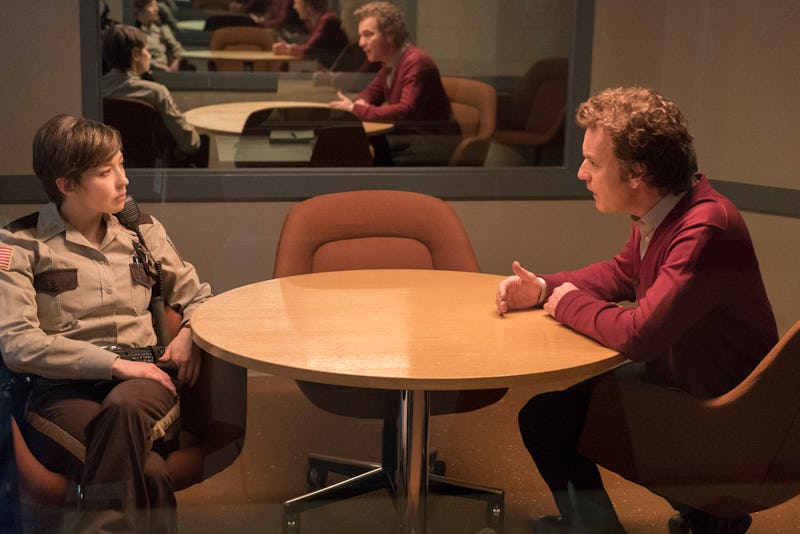 Chris Large/FX
Part of the appeal of an anthology series is that they have the ability to go on for a virtually unlimited amount of time, since they don't have to find a way to sustain one story over the course of multiple seasons. So will Fargo return for Season 4? It seems only natural that FX would want to stretch out their Coen-inspired anthology as long as possible, given its solid ratings, its critical accolades, and the veritable raft of Emmys the show has earned for its first two seasons. The network has yet to officially renew the show for a fourth iteration on the eve of the third season finale, but that's not entirely unusual in and of itself. However, there are other signs that Fargo Season 3 may be its last.
UPDATE: FX announced in January 2018 that Fargo Season 4 is on its way and will premiere in 2019.
EARLIER: Blasphemy, I know; and yet the June 21 finale could very well be Fargo's swan song if comments by both FX President John Landgraf and creator/showrunner Noah Hawley himself are any indication. Hawley has long been hesitant to over-promise on his show's longevity, telling The Hollywood Reporter before Season 1 even premiered that he thought Fargo would have a relatively short shelf life. "I'm excited to do another one," he said about a possible second season. "I could probably see my way clear in doing a third … but I don't really know past that if it's worth doing or whether it's just good to move on to the next thing."
Hawley seemed to relish the idea of such a brief run, saying that, "It's a great new option that you have in television: to tell different stories and move around from story to story as opposed to locking into 10 seasons." He even provided THR with a topical example: "Damon Lindelof was very articulate with the fact that Lost should have been a three-season show." Of course, Lindelof has since gone on to create HBO's The Leftovers, which ran for — you guessed it — three seasons; a lifespan that Fargo will match if it ends this year.
Landgraf seemed to put the nail in Fargo's coffin last month, when he was asked about the anthology's future in an interview, also with The Hollywood Reporter. "There may never be another Fargo," FX's head honcho said bluntly. "Unless Noah has an idea for Fargo that he thinks he can make as good as the prior three." Many people were quick to write obituaries for the all-but cancelled series — but in reality, Landgraf wasn't saying anything Hawley hadn't already said himself multiple times.
The writer (who also went on to create Legion for FX) has always taken Fargo one season at a time, with no subsequent seasons treated as a foregone conclusion. "Obviously, in an industry like this, anytime something is a success, you think, 'How can I make more money off of it?" Hawley said in an interview with CHUD.com during Fargo's freshman season. "That said, my experience with FX is, they're very proud of the quality of the work, and their biggest concern is if we were to do it again, could we make it as good or better, and certainly those are conversations that are being had. I think that, for me, it's really important that there's a kind of alchemy that happens when you get all the right elements in place; a lot of it is skill but some of it is luck as well, and I'm not in any hurry to try to top myself there."
Indeed, Hawley repeated these sentiments recently, at the ATX TV Festival in Austin, Texas in early June. "Am I sure there's going to be a fourth season of Fargo?" he said, as reported by IndieWire. "Here's the thing: I wasn't sure there was going to be a second season, and I wasn't sure there was going to be a third season until I had an idea I really liked. I have a network that said to me at the end of Season 1, 'You know, if you want to leave it there, it's been a successful experiment, and we would be OK with that.' But then we had a story and made that."
It seems like Landgraf's comment to THR was more intended to prepare Fargo fans for the possibility that the show won't continue past Season 3, rather than an outright announcement of its incipient end. To date, FX has not yet officially renewed Fargo — but neither has it officially cancelled it. So far, all three iterations of the anthology have aired exactly 18 months apart, premiering in April 2014, October 2015, and April 2017. If Hawley comes up with a new idea and that pattern holds, the soonest viewers can expect another trip to crime-ridden Minnesota is in October of 2018… and, sadly, the wait may be as long as forever, if Hawley decides to hang up his Fargo hat and focus on his other television endeavors instead.
Given that fact, audiences should probably savor this last remaining hour of Fargo as though it will be its last — because it very well may be.