What To Know If You're Planning To Travel To Or From Florida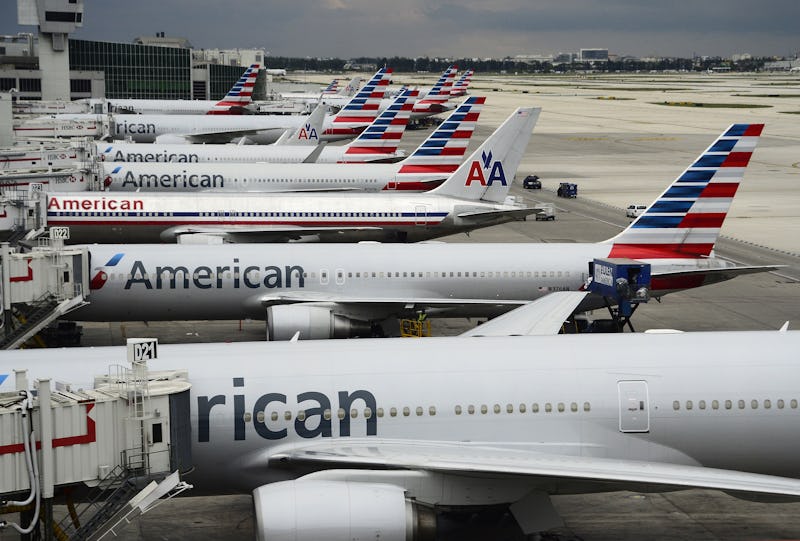 ROBYN BECK/AFP/Getty Images
On Tuesday, as Hurricane Irma continued to churn westward across the Atlantic Ocean with sustained winds of 180 m.p.h., airlines began to cancel flights due to Irma's strength. As of midday Tuesday, American Airlines, British Airways, and Virgin Atlantic had all cancelled flights to Caribbean islands such as Antigua. Flights to and from Florida, which Irma is expected to reach this coming weekend, had not yet been cancelled.
"The safety of our customers and crew is always our priority," British Airways said in statement, according to the BBC. "We have offered all customers due to travel to the region in the coming days a range of re-booking options and are keeping our flights to the entire region under review." On Tuesday, British Airways cancelled flights to Antigua and sent an empty aircraft from the UK to the island to pick up vacationers early.
On Tuesday morning, Irma was upgraded to a Category 5 hurricane — the strongest classification for Atlantic cyclones. "There's an increasing chance of seeing some impacts from Irma in the Florida Peninsula and Florida Keys," the hurricane center said, advising that Irma could be "potentially catastrophic." "Otherwise, it is still too early to determine what direct impacts Irma might have on the continental United States. However, everyone in hurricane-prone areas should ensure that they have their hurricane plan in place."
On Tuesday American Airlines also cancelled flights to the islands of St Kitts and St Maarten. Virgin Atlantic rescheduled a flight leaving from Antigua on Tuesday to be five hours earlier than the previously set time. At the time of writing this article, Puerto Rico's San Juan airport had cancelled 85 flights scheduled for Wednesday, which is about 40 percent of the flights arriving at and departing from the airport that day. Many flight between Caribbean islands had also been cancelled.
"Hurricane conditions are expected to begin within the hurricane warning area in the British and U.S. Virgin Islands and Puerto Rico on Wednesday, with tropical storm conditions beginning tonight," the National Hurricane Center said. "Hurricane and tropical storm conditions are possible within the watch area in the Dominican Republic by early Thursday."
In response to Irma's seemingly imminent landfall, Florida Gov. Rick Scott declared a state of emergency on Tuesday. "Hurricane Irma is a major and life-threatening storm, and Florida must be prepared," Scott said. "In Florida, we always prepare for the worst and hope for the best, and while the exact path of Irma is not absolutely known at this time, we cannot afford to not be prepared." It was unclear how this would affect flights to and from Florida.