If You Miss Khal Drogo On 'Game Of Thrones,' You Should Be Watching This Netflix Show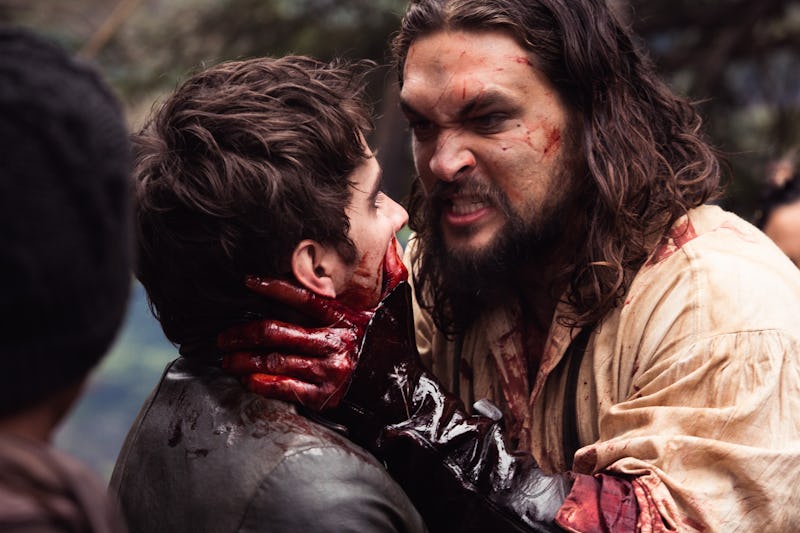 Netflix
The second season of Frontier, the Netflix drama about the struggle to control the American fur trade in the 18th century, lands on the streaming service on Nov. 24. But will there be a Season 3 of Frontier? Or will Game Of Thrones alum Jason Momoa be down a TV series?
UPDATE: On Dec. 14, Deadline reported that Frontier has been renewed by Netflix for Season 3, premiering in 2018.
EARLIER: Unfortunately, nothing official has been announced by Netflix yet about the possibility of a Season 3 renewal for Frontier. However, Discovery Canada, the series' Canadian home network, announced the renewal of Frontier for Season 3 ahead of Season 2's Netflix debut, which bodes well for its eventual arrival on the streaming service. Earlier this year, Momoa seems hopeful that he will be able to continue his role as a fur trader for several more seasons. He told Yahoo, "If you're already satisfied with Season 1, [Season 2 is] just like 100 percent better. I'm looking forward to, hopefully, [Seasons] 3 and 4." So Frontier's biggest star is down to return. It seems like if there is enough audience interest in the show, it will be picked up for another season by Netflix as well.
Frontier is focused on the struggles amongst fur traders and the British Hudson Bay Company in current day Canada, but the show also makes an effort to incorporate the stories of the indigenous people whose lives were drastically impacted by the appearance of European traders. Actor and executive producer, Alan Hawco noted in an interview with Huffpost Canada, "Twenty years ago it'd be a white person's show. It'd be the trials and tribulations of the Europeans." Instead, the show incorporates the narratives of the people of Canada's First Nations, with characters like Jessica Matten's Sokanon, a Native American tracker. The actor is herself part-Métis, part-Saulteaux-Cree, and shared with The Edmonton Journal that she was particularly grateful about the way the show chose to portray it's indigenous characters. She said:
"The producers have been wonderful in making sure they'd done their due diligence in how we are representing our people. They didn't want the Hollywood Pocahontas character. And they tackle hard issues as the season evolves, and they're not afraid to go there, which I really applaud. We do have a cultural adviser on board, and have been very receptive to suggestions I have as well. I reach out to elders and my family and community to make sure this is correct, even though it's based somewhat in a fantasy world."
Another aspect that makes the show so compelling is Momoa's performance. His character Declan Harp is half-Irish, half-Native, and his mission is to disrupt the dominance that the Hudson Bay Company had on the fur trade. Often, this leads to violence. When asked in his interview with Yahoo to pitch a sentence for the drama, Momoa said, "The funny version: me, wrapped in fur, covered in blood, killing English people, avenging my family's death."
And it seems like the actor could not be more perfect for a role that places him on the rugged frontier. Executive producer Jeff Fierson described to Yahoo how his visit to Momoa's house demonstrated how well suited he was to the role. He said:
"First of all, we arrived there, and you know what he looks like physically. He was climbing a rock wall that he had built himself for him and his kids, shirtless. He jumps down from the top in a very hero pose, walks up, shakes our hand, and then just starts in with like, 'Come over here. This is how you throw a tomahawk.' He has a range to throw tomahawks and this entire bin full of tomahawks that he's made. He has me, Jewish me, throwing tomahawks by the end of the night."
Watching Jason Momoa run around the wilderness of 18th century Canada seems like the ideal way to spend a Sunday afternoon, with or without the tomahawk. Frontier's adventurous star and socially conscious storytelling should hopefully secure more new episodes, beyond even Season 3.
Correction: A previous version of this did not include Discovery Canada's renewal of the series. It has been updated to include this information.