Here's Why Gina Probably Won't Come Back To 'RHOC' Next Season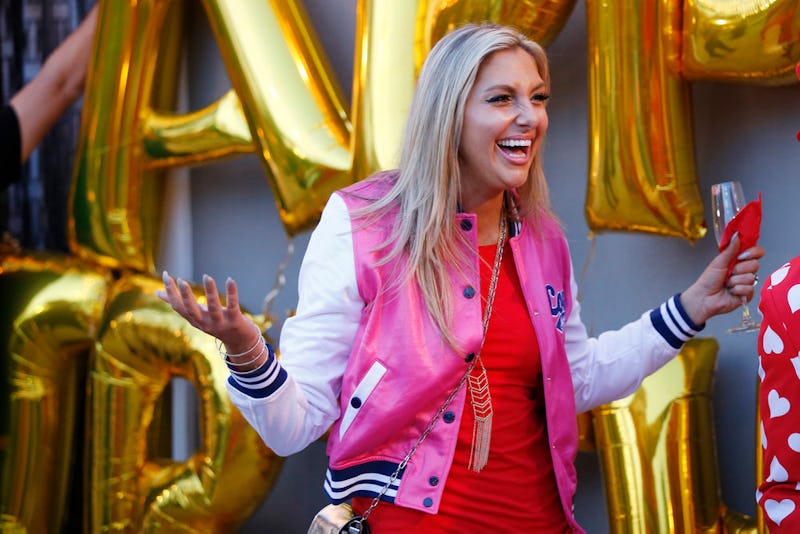 Phillip Faraone/Bravo
The number of couples who were married when they started appearing on any Real Housewives franchise and actually stayed married can probably be counted on two hands. Whether it's the pressure of having cameras poking into every part of your life or the fact that even a little bit of fame tends to change people, separation and divorce are de rigeur for Real Housewives marriages. On Real Housewives Of Orange County, new Housewife Gina and her husband, Matthew, have opted to split up, and it's causing some ire within the rest of the cast. Given their current situation, it's fair to ask if Gina, or even Matthew, will be on Real Housewives Of Orange County next season?
That's hard to say. She's so new that it's hard to tell if Gina can anchor the kind of drama that audiences expect from a season of Real Housewives Of Orange County. Shannon, Vicki, Tamra, and Kelly are old pros — they know which drinks need to be thrown, which insults shrieked across a crowded bar. But Gina? Jury is out on this Long Island loudmouth (which I mean in the nicest possible way). And if Gina isn't coming back, Matthew certainly won't be on the show. In fact, according to People, Matthew's employer forbade him from being on the show in the first place, so if his ex-wife isn't on the show, he is as far from the Real Housewives universe as possible.
Though the women of Real Housewives Of Orange County have been shaming Gina into reconsidering her decision to get divorced, Gina insists that it's the right decision for her and Matthew. Of the reason behind their split, Gina told People:
"On Long Island, marriage is a community thing. Your parents, your in-laws, your siblings, your friends, your family — they're all a part of your relationship. You don't think about breaking that up. So, when we moved to California, it was like, now you only have each other. And you really have to validate that relationship and say, 'Are we really functioning and working well? Are you really my soulmate who I want to spend the rest of my life with in that way?' When we asked ourselves those questions, we discovered that we really didn't."
Gina went onto say that she and Matthew will "always be family" and that their divorce will be as calm and conflict-free as possible. "I choose to focus on the nine amazing years we had together and all these babies… I don't want to have to hate somebody I had a bad year or two with because we realized we're different and not meant to be together. It's not worth it," she said.
Going through a divorce on national television can't be easy, and in other interviews, Gina has expressed that she wouldn't have done the show had she known they'd be filing to split so soon. "I don't want to be on TV having to share my divorce story and I think honestly had I had known that this was where it was going to end, I probably wouldn't have done it," Gina told Page Six. "I just had to have faith in what I was doing and know that I was making the right decision for my family and it's mutual. Matt and I are still really good friends."
Splitting up is never an easy feat, but no matter whether or not reality television is in the future for this former Orange County couple, it seems like they're making the best of a bad situation for both them and their kids.