The 'Greenhouse Academy' Finale Cliffhanger Has Fans Begging For More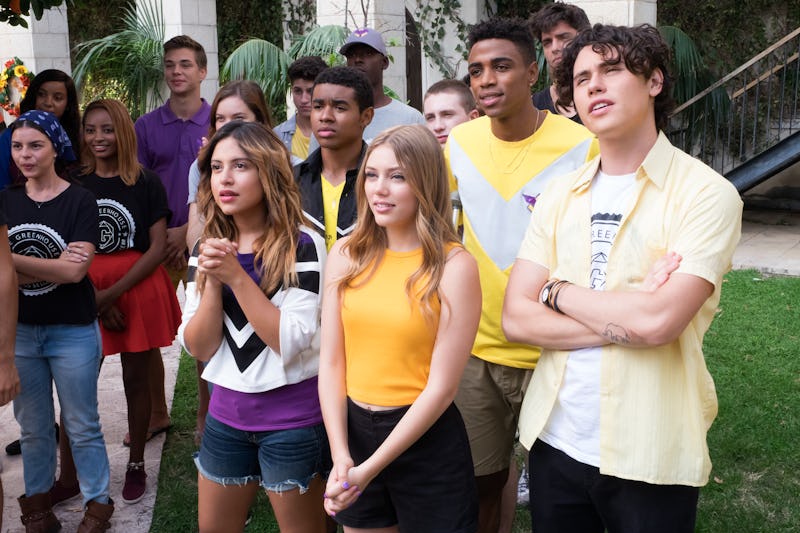 Ronen Akerman / Netflix
Netflix's Greenhouse Academy recently returned for its second season, and fans are already all over it. The newest batch of episodes ended with a cliffhanger, so fans likely want to know: Will Greenhouse Academy return for Season 3?
At the end of the Season 2 finale, Hayley answered her front door with a smile, but the show didn't reveal if it was Daniel or Leo who had arrived to apparently sweep her off her feet. Viewers who have become invested in this love triangle are, needless to say, up in arms, and want to know when they can expect more episodes.
"Just binged season 2 of #GreenhouseAcademy in one sitting and now have to wait for season 3 after that cliffhanger. That better be Leo at the door!" wrote one Twitter user.
"#GreenhouseAcademy season 2 was amazing! Can't wait for season 3!" wrote another.
So, is Greenhouse Academy getting another season?
All signs from the cliffhanger point to yes — I mean, how could you possibly leave these obsessed viewers hanging like that? It sure seems like the show is prepping to come back, but it doesn't appear as though Netflix has made an official announcement as to when — or if — the new season will premiere. This isn't that surprising given that Season 2 just aired — sometimes these decisions just take time and they're still working out the details. It doesn't necessarily mean anything good or bad for Greenhouse Academy just yet, but if Netflix is paying attention to what fans have been saying, they should definitely be exploring the possibility of third season.
The show blends aspects of competition, adventure, and romance — and according to star Dallas Hart, "the best way to describe Greenhouse Academy is it's kind of like Harry Potter without the magic." And considering the show is based on the Israeli program The Greenhouse, which The Jerusalem Post says was a hit among both teenagers and adult viewers, it's no surprise Netflix users have warmed to the American adaptation.
Greenhouse Academy also has the same original showrunner, Giora Chamizer, backing it, and it is filmed entirely in Israel despite its Southern California setting. Chamizer told The Jerusalem Post he enjoys working on teen shows because they have a very broad yet specific audience. "It's unique with this age group where you still feel OK watching a show with your dad or your mom," Chamizer told The Jerusalem Post. The outlet also states that the show purposefully uses cliffhangers — as new fans will now know — to keep people interested and coming back, and hopefully it's enough to keep Netflix interested, too.
Chamizer said he wanted to keep the same tone as the successful Israeli original show, even though he was largely Americanizing the program with the remake. "It's a complicated production... there are very few things to compare it to," Chamizer said. "It's constantly challenging the viewer. I wanted to keep that feeling from the Israeli version. The problem with remakes is that you want to keep the DNA of the original show."
So far, he seems successful in continuing to reel people in. And, you know, hordes of Twitter users losing their minds over the Season 2 finale and even creating their own fan fiction certainly isn't a bad sign, either. People are obviously enthralled with not just the plot itself, but also this romantic tension between Daniel, Leo, and Hayley, which is definitely something that seems like it'd keep people hooked for seasons to come. If the original Israeli version, which ran for a whopping 175 episodes, is any indication, Greenhouse Academy has a promising future ahead of it.