Tropical Depression Harvey Is Now Heading Toward Nashville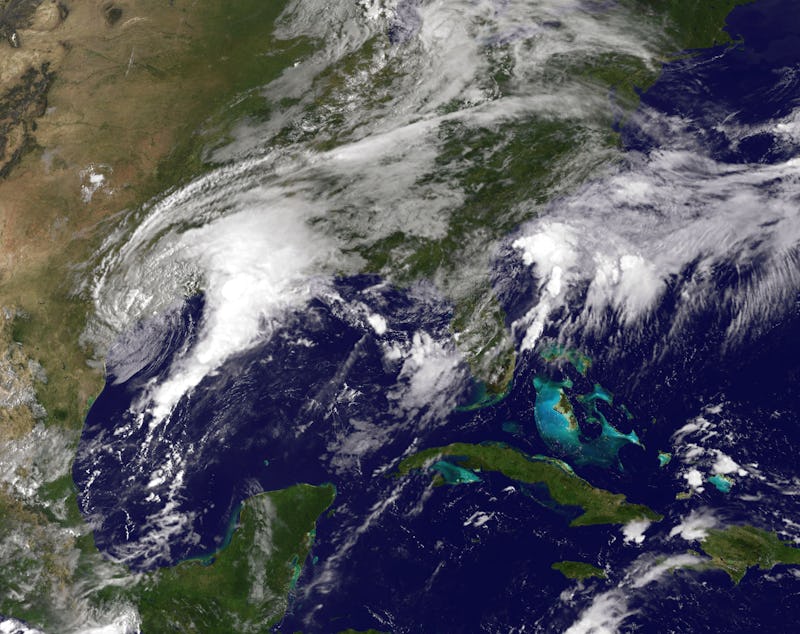 Handout/Getty Images News/Getty Images
Hurricane Harvey is already the largest rainfall event in the United States' history, and it's not even over yet. It may no longer be a hurricane, but Harvey is still moving to the northeast. The center of the storm moved off the coast along eastern Texas, then hit land again at the Louisiana-Texas border Wednesday. Now it has folks as far as Nashville preparing for rains from Harvey.
The difference is, of course, the type of storm that will hit the city, compared with what the Texas coast or Houston dealt with. Harvey is no longer a hurricane, or even a tropical storm as far as the meteorologists are concerned. It downgraded to a tropical depression by Thursday, but even so, it's still packing quite the punch when it comes to rain. The National Weather Service issued flood watches for the middle of Tennessee, including Davidson County, where Nashville is located. That is one of 18 Tennessee counties to have been issued the watch, given that up to 7 inches of rain are forecast for the area between Thursday and Saturday.
Municipal workers in Nashville are not taking any chances. They have started to prepare certain low-lying areas that are particularly prone to flooding, doing things like clearing the grates of storm sewers. Regular maintenance crews were even reassigned to the storm water focus. The city's Emergency Operations Center will be up and running, too. Besides the flooding, there's also the chance of tornadoes in Tennessee.
Ironically, some of those displaced from Harvey in Houston could be relocated to Nashville in the meantime. These would mostly be nursing home and hospital patients. Some patients have already come from Louisiana, including one boy who usually goes to Houston for treatment, The Commercial Appeal reported. The National Disaster Medical System has been placed on alert as of Wednesday. Patients won't be moved until it's activated.
Nashville is wise to get a start on flooding preparations. The Houston area is still being affected by standing water even though the storm has moved on. Thursday morning a chemical plant to the northeast of the city suffered two explosions due to a failure in the power system that supplied refrigeration for volatile chemicals. Ten sheriff deputies were in the hospital for being exposed to the fumes.
Tennessee, and Nashville in particular, is no strangers to floods. In 2010, the area suffered from a massive flood, that killed 26 people and displaced 10,000 people from their homes. This time, the rains from Harvey look to be far less severe.