Hope Hicks Is Reportedly Getting Book Offers Because Of A Rumored "Secret Diary"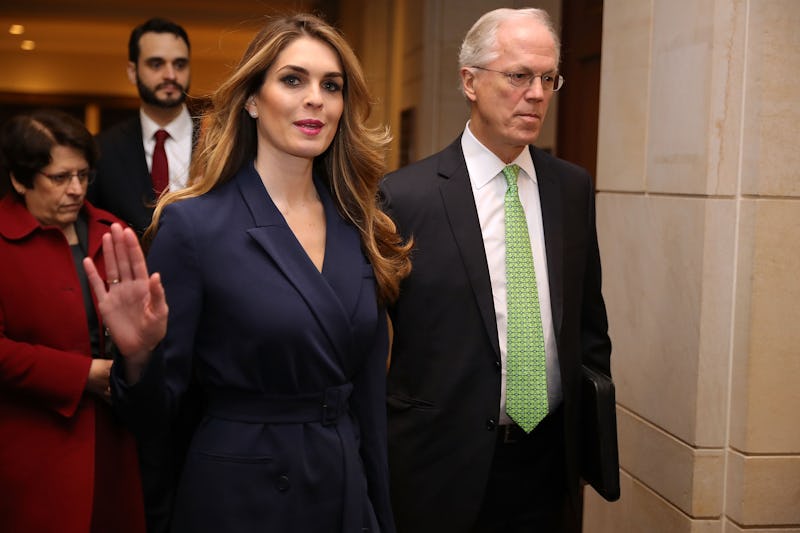 Chip Somodevilla/Getty Images News/Getty Images
It's been only a few days since the resignation of White House communications director Hope Hicks, but a book deal might already be in the works. The president's aide quit her position on Wednesday after testifying in the Trump-Russia investigation, where she admitted she told "white lies" as part of her public relations job. Now that she's exiting the Trump administration, book publishers, Hollywood film producers, and TV executives are reportedly contacting her.
The 29-year-old could make up to $10 million from an advance to a book deal, the British tabloid the Daily Mail reported on Thursday. Not too shabby. While working for Trump, Hicks netted a salary of $179,700 a year, a paycheck in the same tier as senior members of the Trump administration, including adviser Kellyanne Conway and former chief strategist Steve Bannon.
Hicks was (and still seems to be) a Trump family favorite who worked closely with the president. A inside source reportedly told the Daily Mail that Hicks kept a diary detailing her time in the White House. However, Hicks is certainly restricted under some sort of nondisclosure agreement, the source added.
With a possible secret diary and a tight connection to Trump, it's no wonder then people are clamoring for what could be Hicks' juicy inside story.
Hicks, who is notoriously elusive and refuses most interviews, recently made headlines as another target for special counsel Robert Mueller, who is investigating whether the Trump campaign team cooperated with Russia to swing the 2016 election. (Trump has denied the accusation.) The New York Times reported that former Trump legal spokesman Mark Corallo was going to tell Mueller that Hicks allegedly promised that Donald Trump Jr.'s emails would "never get out." Hicks' lawyer Robert Trout denied the allegation that his client was trying to obstruct justice by concealing such relevant information:
She never said that. And the idea that Hope Hicks ever suggested that emails or other documents would be concealed or destroyed is completely false.
The Trump ally ended up answering questions in a closed-door testimony where it reportedly took 10 minutes for Hicks to say whether she ever lied for Trump. In her testimony, Hicks also refused to answer other questions and denied ever lying about anything related to the Trump-Russia scandal.
Her actual career in the White House may be over for now, but it could live on in the pages of the next bestseller.
"Next to Ivanka and Melania, Hope is the woman closest to the president," one publishing executive told the Daily Mail. "[She] knows all the secrets, all the foibles, all the quirks." The publisher added: "She's also the most glamorous White House female since Jackie Kennedy. Her story will be a blockbuster. I have the authority to offer her an advance of $10 million, and we're open to negotiate."
One literary agent speculated to the Daily Mail that "everyone will be interested in the true story of her relationship with Trump. Is he a father figure to her or something more? There's just so much speculation about their relationship." The agent explained Hicks' appeal like so: "Look, here's a gorgeous young woman with no political experience who suddenly becomes one of the most influential woman in the White House who has the president's ear 24/7."
That "glamour" could have been both a boost and a detriment to Hicks' ambitious career. Some think that journalists and the general public are soft on criticizing Hicks because of her good looks. Others point out that it's precisely that sexist media focus on her appearance (as well as her background as a youth model) that takes away Hicks' credit as a capable woman who swiftly moved up the ranks in her career.
There's no confirmation yet on a Hicks book deal, so we'll have to wait and see. Even if it's just a rumor, the possibility's at least fascinating to consider.