'Humans' Has More Life In It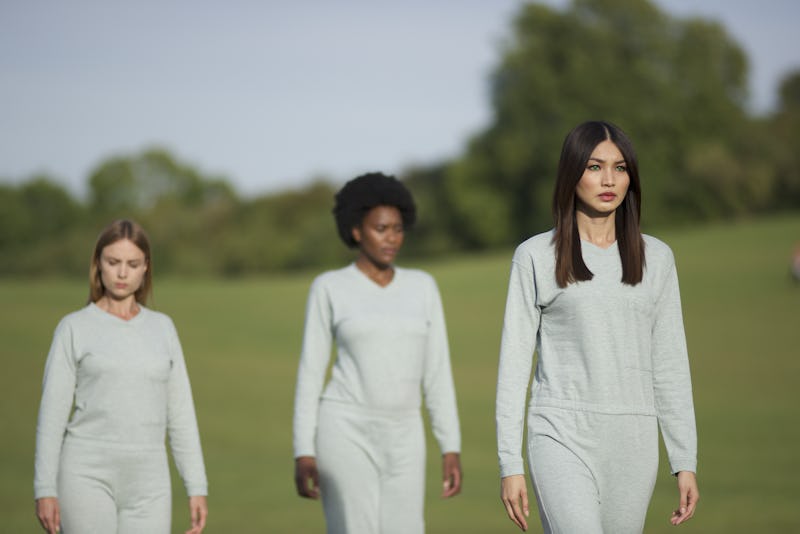 Nick Wall/Kudos/CH4/AMC
Humans is going out with a bang with its Season 2 finale airing Monday, March 20 at 10 p.m. ET. I don't mean in terms of content, although that's likely to be the case, too. No, I mean because this series will be ending its second season on AMC with a special two-hour finale with Episodes 7 and 8 airing on the same night. Season 2 of this series sure went by quickly on AMC, so fans of the show are undoubtedly going to want to know if Humans will return for Season 3, and they're going to want to know the answer to that sooner rather than later.
Update: Humans has been canceled after three seasons, Variety reports.
Earlier: Unfortunately, AMC is still keeping fans of Humans guessing. The network has yet to announce whether or not the series will be returning for a third season. Channel 4, the network on which Humans originally debuted in the U.K., has also not yet officially announced a renewal or cancellation of the series. But Humans was Channel 4's biggest original drama hit since The Camomile Lawn debuted in 1992 with a consolidated audience of 6.1 million viewers for its series premiere in 2015, according to The Guardian. Those ratings, coupled with critical acclaim in the U.K. and the U.S. makes me think that we will be seeing more Humans across the pond, here, or on both shores in the future.
Katherine Parkinson, who plays Laura Hawkins in Humans, also gave a curious interview to Digital Spy as Season 2, or Series 2 as it's referred in the U.K., of the show prepared to kick off. "I know what I've shot and how that ends, and I knew that at the beginning of the series – it's really brave," she said. "The way this series ends, the third series could end up being a whole different genre. It's very exciting." It's unclear if Parkinson knew something we don't at that moment or if this was just wishful thinking that Humans will return for Season 3, but if she seems optimistic, that should give us all some hope.
Since there have been no official announcements saying that Humans will definitely be back for Season 3, we definitely don't know when a third season will premiere. Even if you just wanted to try and guess for kicks and giggles and just go off of when new seasons of Humans have bowed in the past, that would be difficult because those dates haven't really followed a pattern. The first two seasons of Humans premiered on Channel 4 in May 2015 and October 2016, respectively, and on AMC in June 2015 and February 2017, respectively. If Humans gets the greenlight for Season 3, your guess is as good as any about when it will return.
But have no fear, because Humans is just one of many brilliant British sci-fi series available to stream over here in the States. And no, I'm not just talking about Doctor Who, although you should totally stream that one, too. Let these sci-fi series totally transport you while you wait to hear about the fate of Humans.