Twitter Is Still Reeling From That Shocking 'Humans' Finale & It Wants Answers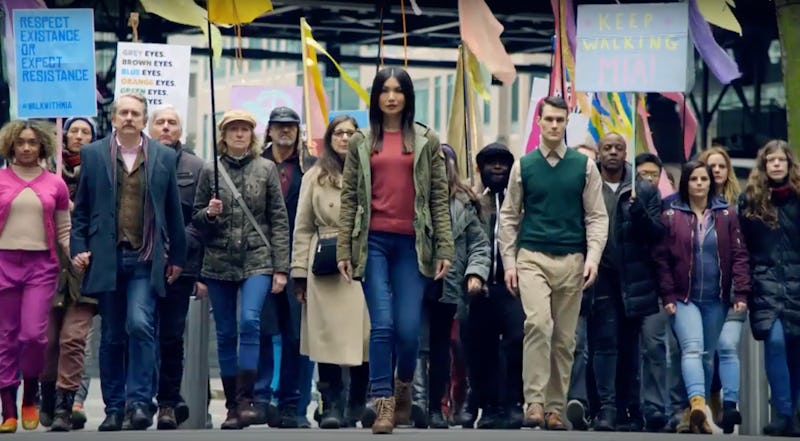 Channel 4
Back in 2015, Channel 4 gave us a pretty dishy new sci-fi drama, that has had the nation absolutely hooked. What is it? It's only bloomin' Humans, isn't it? This team effort between Channel 4 and AMC is as addictive as that second box of Pringles. In a time where dystopian realities don't feel that distant a thought, this show has been a smash-hit and had everyone talking. After Season 3's crazy ending, the question on every mega fan's lips is: Will Humans return for Season 4? Look away now for spoilers!
Based on Sweden's sci-fi drama We Are Humans, Humans presents a creepy world where artificial intelligence has developed leaps and bounds with synthetic robotic humans, or "Synths" as they are known, being an average part of life. As the Synths look and act human and are getting increasing levels of artificial intelligence, with upgrades like consciousness becoming available, there is a rise in anti-Synth feelings among humans. Many humans begin to believe that the Synths make humans redundant, that they are a threat to humanity. A group calling themselves "We Are Human" are on the rise in Season 3, bringing with them harrowing themes of segregation and violence.
Season 3 saw things getting pretty damn real between the Synths and the humans, with the Synths having all gained consciousness. The main storyline of Season 3 was the Synths striving to get equal rights to those of their human counterparts. This fight for equality is juxtaposed with the rise of human supremacists who see artificial intelligence as being incredibly threatening to mankind and putting humans out of work or making them feel inferior compared to the uber-sleek robotic humanoids.
Not so dissimilar to "coming over here, taking our jobs" sort of vibes, this show is a not-so-veiled comparison of what happens when people feel threatened by something different. Synths doing the awful, mundane, badly paid jobs humans don't want to do and then humans complain that they are a threat. Eye roll. The show also constantly makes you think about the rise of technology and the ethics behind it. How far away are we really from having our very own Synths? Gah! I do not want to know.
Season 3 culminated in an out-and-out war between humans and synths, with human extremists being backed by the government, who enact a power surge to kill all of the Synths on charge and then allow anti-Synth groups to go out and kill those left alive. As a result, Mia, played by the show's original headline star Gemma Chan, was killed off in a shocking twist. All this chaos was then amplified with the huge revelation (didn't need to reveal that humans are occasionally awful) that one of the main characters Mattie, a pregnant human, is carrying the first ever human/Synth hybrid. Holy moly, they can't leave it like that, can they?
Speaking to Digital Spy, the show's star Tom Goodman-Hall spoke about the potential for a fourth season.
We've taken on some interesting new writers on this series, including Daisy Coulam, who's fantastic – she's got ideas of her own, I think. So there's definitely scope that you can see in her writing, and with what Jon and Sam write, so that you could take [a fourth series] on.
That sounds pretty positive, right? They can't leave us hanging! What about that dang baby? One of the show's creators, Jon Brackley also spoke to Digital Spy confirming that:
If we're lucky enough to get recommissioned, we have ideas. As we're writing and developing a series, we can't help but imagine where it goes next. We get close to the end of writing one and sort of imagine how the beginning of the next one starts. So we have ideas.
OMG, where do we get a petition going for a Season 4?! The fans are keen and also have some theories about Mia.
With Season 3 leaving such a tantalising cliffhanger, fans eagerly wait to see if Humans Season 4 will become a reality. Here's hoping humanoids.