Here's How Austin Is Preparing For Hurricane Harvey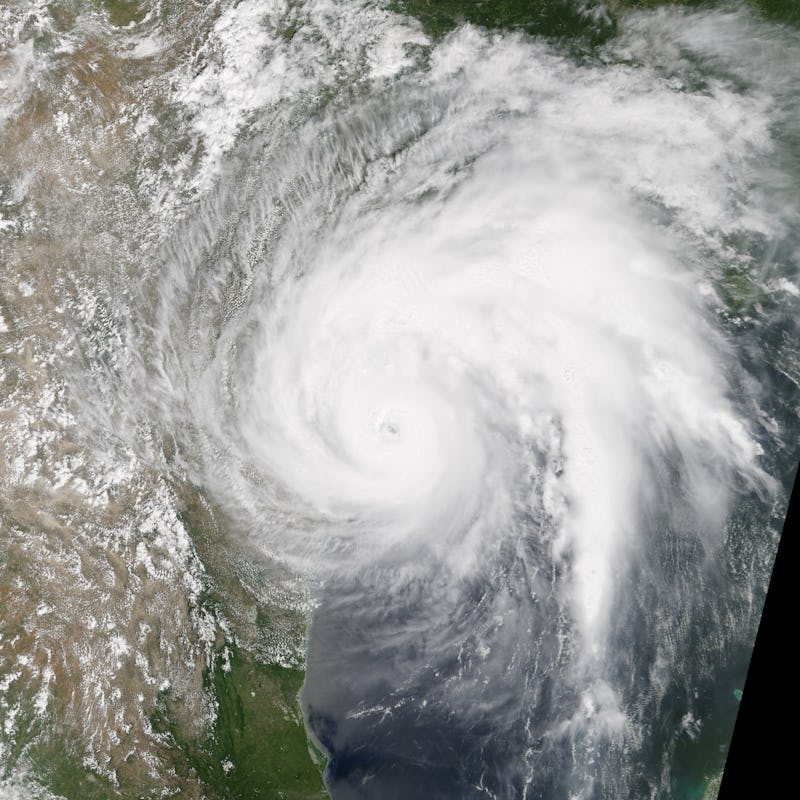 NASA/Getty Images News/Getty Images
Hurricane Harvey slammed the Texas coast on Friday. The Category 3 hurricane is one of the most serious to hit the continental United States in years, and the National Hurricane Center has warned that it could bring "catastrophic and life-threatening flooding" to coastal communities in Texas, Cities located further inland won't have it as bad, though — although Hurricane Harvey will affect Austin, its effects there are expected to be much milder than elsewhere in the state.
"We are closely monitoring Hurricane Harvey and making sure we're prepared," Austin Mayor Steve Adler wrote on Facebook, continuing:
We're working with state and regional partners and are ready to assist as needed, including sheltering evacuees and dealing with local weather-related emergencies.
Austin is located along the outer border of the area that will be affected by Harvey. According to the Austin American-Statesman, the bulk of the storm is situated hundreds of miles southwest of the city. Harvey has produced some additional rainfall in Austin, but it's not expected to be particularly catastrophic. Although many cities and communities are being evacuated account of the hurricane, Austin isn't one of them.
"It's been totally fine," Austin resident Eli Ramirez tells Bustle on Friday afternoon. "It's raining on and off and it's a bit windy." Brady Nash, another Austin resident, tells Bustle that Austin has only experienced light rain so far, although he did say that "traffic sucks" on account of the storm.
Coastal communities won't be as lucky, however. Mandatory evacuation orders are in place in all of Aransas Pass and Calhoun County, according to Houston station KTRK, as well as parts of Brazoria and Matagora Counties and the city of Freeport. Meanwhile, the cities of Dickinson, La Porte, Kemah, Corpus Christi, and Seabrook have all been issued voluntary evacuation orders, as has have Galveston and Chambers Counties.
Because Austin is only expected to experience a mild uptick in rain, city officials have been focusing on providing shelter for Texans displaced from the coast. Austin Homeland Security and Emergency Management spokesman Jake Dirr told the Statesman that there "hasn't been any official request for sheltering yet," but that officials are standing by to deal with any requests as they come in.
Ramirez tells Bustle that although the rain in Austin has been bad enough to force the cancellation of a pool party she'd planned, some locals in the city appeared to be overreacting.
"In true Austin style, people are losing their minds over a few inches [of rain]," Ramirez says. "They're buying up all the bottled water and kerosene at HEB."