You May Want To Change Plans If You're Heading To Disney's Hollywood Studios This Week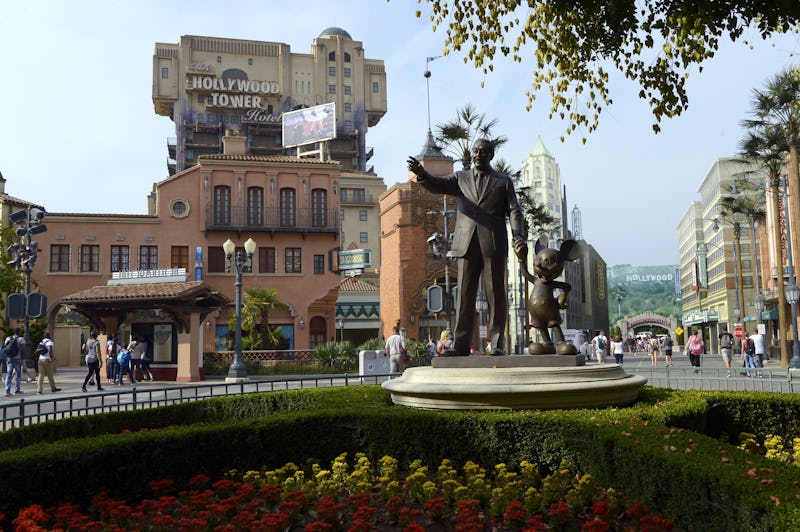 BERTRAND GUAY/AFP/Getty Images
The happiest place on Earth is decidedly less happy during a hurricane, and with Hurricane Irma potentially headed toward Florida, you may want to rethink your vacation plans to Disney. Like the entire park, Disney's Hollywood Studios may be affected by Hurricane Irma. The former MGM Studios will actually let you change your plans if and when there is a hurricane warning in effect for the Orlando area.
Gov. Rick Scott and other leaders in the state are worried and have begun preparations for a potential landfall. Right now, there is a declared state of emergency in the state, but not a hurricane warning. Those are usually issued only 36 hours before a hurricane would strike. Nonetheless, you can call Disney and see what your options are if your holiday was booked directly through the company. To monitor possible hurricane warnings for Orlando, check with the National Hurricane Center.
If Irma does head toward Orlando, there's the chance that the park could close. But that would only be for a very bad storm. The park has only closed five times in its history, and four of those were for hurricanes, with the most recent time being in 2016 during Hurricane Matthew. The park closed for just one day.
Some Disney blogs have recommendations to be prepared for a stay in Orlando in case you're already there when the storm hits, including bringing extra batteries for your phone, bottled drinking water, and snacks, in case you have to ride out the storm in your hotel room. If you're lucky and Irma doesn't hit the park, you could benefit from reduced crowds among the rides if many people decided to change their trip.
If you do find yourself at the park during the storm, make sure to follow the warnings from Disney — or wherever you've booked your stay in Orlando. They'll know the best procedures to keep you safe. Those could include closures of the park and directions to stay in hotel rooms. If things get especially bad, Disney and other hotel operators could move guests to interior rooms with no windows.
In the end, a trip to Disney is supposed to magical, not a stress thanks to potential hurricanes. So if you had planned a trip to Disney's Hollywood Studios — any of the parks in Walt Disney World, give the company's hurricane policies a good once-over and see what's best for you and your vacation plans.