What You Should Know About Hurricane Irma If You Have A Trip Planned To Epcot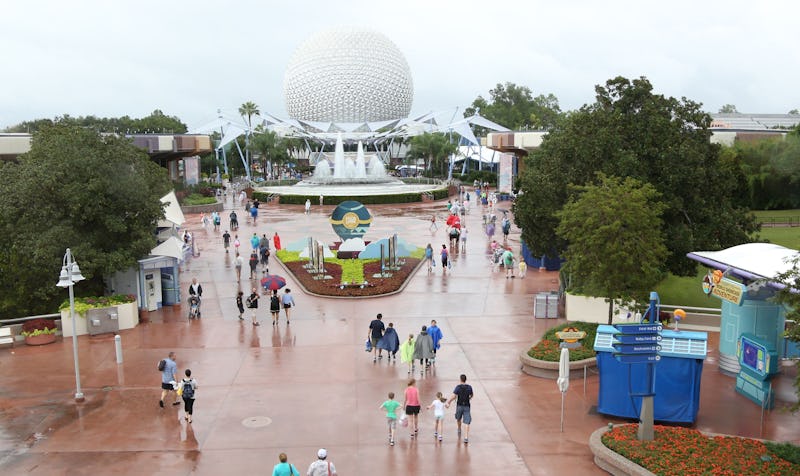 GREGG NEWTON/AFP/Getty Images
As Hurricane Irma looks increasingly likely to impact south and central Florida, many locals are making hurricane preparations. But as a premier tourist destination, any major weather event in Florida also has implications for thousands of travelers. And for those headed to Epcot, Hurricane Irma could affect those plans, though as of now, it has not made any announcement that it intends to close.
Though it's rare, Disney has chosen to close its theme parks due to a hurricane threat before. Since opening its doors in 1971, Disney World has shut down just five times, four of which were due to hurricanes. (The fifth time Disney closed for the day was on Sep. 11, 2001.) The most recent occurrence of Epcot closing unexpectedly came in October of 2016 as a result of Hurricane Matthew. Thankfully, that storm did not inflict the kind of devastation many had predicted.
It's still much too early to tell if Hurricane Irma will be similarly tame. As of Monday, it had been upgraded to a Category 4 hurricane, prompting Gov. Rick Scott of Florida to declare a state of emergency. Meteorologists are predicting Irma could make landfall on Florida's Atlantic coast later in the week.
For those with upcoming plans to travel to Epcot Center, or any of the Disney theme parks, Disney has a hurricane policy in place. According to their website, if a hurricane warning has been issued within a seven day period of a visitor's travel plans, refunds for vacation packages are available. So for anyone planning on traveling to Orlando with Disney specifically in mind, staying on top of Hurricane Irma's path and knowing the options available for refunds is recommended.
Though Orlando is not always associated with devastating hurricanes, the city has been hit hard before. In 2004, Hurricane Charley wreaked an unexpected amount of damage when it tore through Disney World's home city. Downed trees, ruined roofs, and other key indicators of a hurricane left Orlando with a major cleanup and rebuilding imperative.
And while it's best not to panic, the recent devastation from Hurricane Harvey in Houston probably has many Florida residents and tourists in an extra-cautious state of mind. In fact, there are several Orlando-based groups sending aid and personnel resources to Houston, some of whom reference Hurricane Charley as a personal motivation for their volunteer efforts.
So for those erring on the "better safe than sorry" side, reading up on Disney's hurricane policy and using discretion in planning travel for the next week is probably already in the works.