Hurricane Irma Could Force The Dolphins & Buccaneers To Reschedule Their Game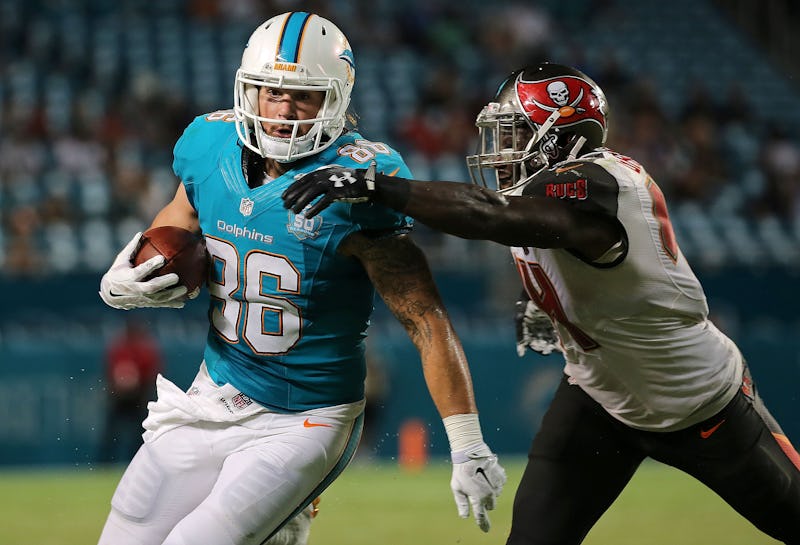 Mike Ehrmann/Getty Images Sport/Getty Images
According to a Monday report by the Associated Press, the NFL is considering moving the upcoming football game between the Dolphins and Buccaneers because of Hurricane Irma. The game would either be held at a different location or be bumped up to an earlier date.
The game is currently scheduled for Sunday at 1 p.m. EST; moving it up to either Thursday or Friday is an option being discussed. However, according to the AP's anonymous source, this decision would have to be made by Tuesday at the latest, considering all the logistics involved. Both the NFL and competing teams will be involved in the decision-making.
The Dolphins and Buccaneers reportedly prefer not to reschedule the game to their bye week (week off) in November, which they share, since this would mean 16 weeks of consecutive play. When asked about this possibility, Buccaneers coach Dirk Koetter said, "What do you think? Nobody wants that. No one wants to play 16 straight. Again, they're not asking my opinion, but I'm sure they realize that."
The league itself has yet to give concrete information about the game. "We will monitor the situation throughout the week and remain in close communication with both clubs and local officials," said NFL vice president of football communications Michael Signora.
The AP asked both team coaches about the possible changes. "They've just told us that they've started their preparations and they're working on multiple contingency plans, too numerous to mention," said Koetter. "Again, it's premature. It is a possibility, and they're working on it."
"They tell us when to play and show up," said Dolphins coach Gase. "We just kind of wait and see right now."
Last week, the Houston Texans and Dallas Cowboys were forced to relocate a preseason game to Arlington in response to Hurricane Harvey. The game was ultimately canceled altogether. Because it's not a preseason game, the dilemma the Dolphins and Buccaneers are currently facing is a bit more difficult.
Hurricane Irma was upgraded to a category 4 storm on Monday and is expected to hit several Caribbean islands on Tuesday and Wednesday. Whether or not Irma will impact the U.S. East Coast has yet to be conclusively determined, but all 67 counties in the state of Florida have been declared to be under a state of emergency by Gov. Rick Scott.
"Hurricane Irma poses a severe threat to the entire State of Florida and requires that timely precautions are taken to protect the communities, critical infrastructure, and general welfare of this State," read the governor's executive order.