Here's Why Mexico Might Be Able To Relax About Hurricane Irma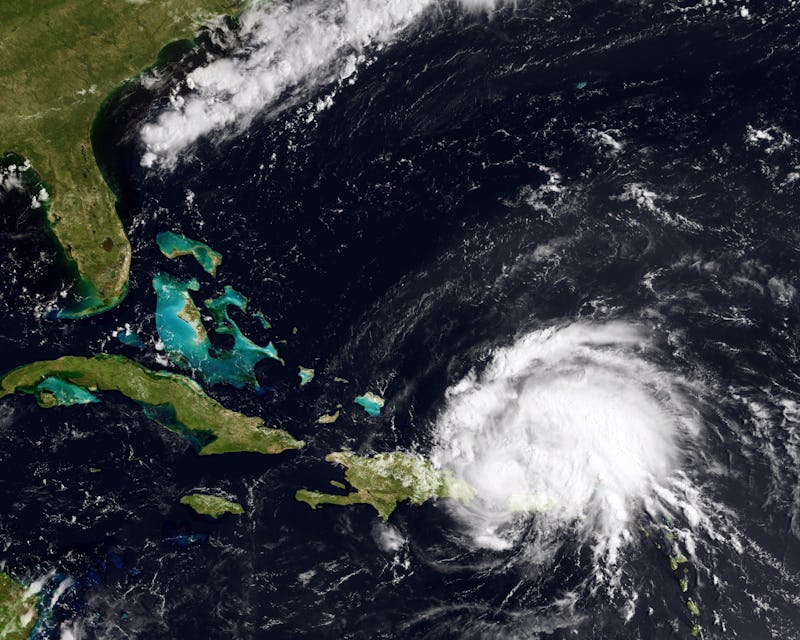 Handout/Getty Images News/Getty Images
Seeing the devastation from Hurricane Harvey has many Americans on edge as they read about another hurricane headed towards the Caribbean, including the U.S. territories of Puerto Rico and the Virgin Islands. But there are others that are likely to bear the brunt of the storm who are not U.S. citizens. Hurricanes like Irma have hit Mexico and island countries in the Caribbean, before. This storm is barreling for some of our southern neighbors too, although this time Mexico will likely be spared.
It's really too early to say with all certainty that the hurricane will turn north after hitting Cuba, but that's what most of the current predictions show. Those on the Gulf Coast should definitely take cover if and when there's a warning to do so, but it will probably not graze Mexico — that said, hurricanes are unpredictable and the path could change.
The storm, according to the National Hurricane Center isn't expected to hit Puerto Rico until Wednesday; only after will it head towards points west or north. AccuWeather is actually predicting there's a good chance it could affect the East Coast by turning northward. Evan Myers, a meteorologist for the site, explained:
This hurricane has the potential to be a major event for the East Coast. It also has the potential to significantly strain FEMA and other governmental resources occurring so quickly on the heels of Harvey.
However, as the site noted, the hurricane could still head directly into Florida, stay off the East Coast, or even veer into the Gulf of Mexico (although still probably not towards the Mexican coast). It's just too early to say without any doubt. For those areas where landfall has been predicted, the situation is quite serious.
There are hurricane warnings for the following islands:
Antigua
Barbuda
Anguilla
Montserrat
St. Kitts
Nevis
Saba
St. Eustatius
Sint Maarten
Saint Martin
Saint Barthelemy
The National Hurricane Center explained what a hurricane warning means:
A warning is typically issued 36 hours before the anticipated first occurrence of tropical-storm-force winds, conditions that make outside preparations difficult or dangerous. Preparations to protect life and property should be rushed to completion.
Depending on where the hurricane goes, there could be plenty of devastation. The storm is currently a Category 3 storm, according to the Weather Channel, with winds of 120 miles per hour. For Americans in Puerto Rico and the U.S. Virgin Islands, some sort of effect is almost a given, as for many of their and our neighbors. Keep them in your thoughts as you watch the weather these next days.