Florida Needs To Stay Focused On Irma Before It Can Worry About Jose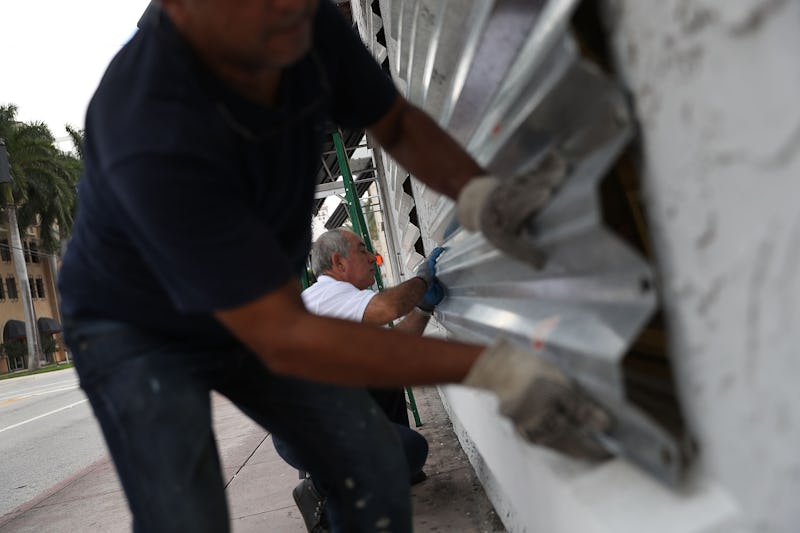 Joe Raedle/Getty Images News/Getty Images
Following Hurricanes Harvey and Irma, the Weather Channel forecast says Hurricane Jose will likely intensify and obtain major hurricane status as it churns through the Atlantic Ocean. As residents of Florida, Georgia, and South Carolina prepare for impact from Irma, meteorologists are monitoring Hurricane Jose, whose projected path will take it near or north of Puerto Rico and the Leeward Islands this weekend. It's too early to tell, however, if Hurricane Jose will make make landfall in Florida or any part of the mainland United States.
Residents of the Leeward Islands in the Caribbean, which include Puerto Rico and U.S. Virgin Islands, are currently gripped by the throes of Hurricane Irma, the Category 5 storm that has lashed out with powerful winds and flooding rains. Already, Irma decimated nearly the entire island of Barbuda and left it uninhabitable.
While it's uncertain how close Jose will come to the Caribbean, it will likely bring more gusty winds and rainfall to the northeastern Leeward Islands, an area that has already taken the full battering of Irma. Jose's environment — dry air plus little variation in velocity or direction — makes the Category 1 storm ripe for intensification while on its projected path westward. Regardless if Hurricane Jose hits the Caribbean or Florida, the tropical storm conditions could hinder Irma recovery efforts.
After Hurricane Jose tracks past the Leeward Islands, lack of steering wind will likely cause the storm to bend toward the open Atlantic early next week, where it could be a cause of concern for ships. Meteorologists advise countries in or near its projected path to closely monitor Jose.
Meanwhile, South Florida is bracing itself for Irma still. Gov. Rick Scott has declared a state of emergency for all of Florida. The hurricane has prompted mandatory evacuation orders in Miami and the Florida Keys, but limited routes mean Florida highways have the potential to become clogged. The Miami-Dade, Broward, and Palm Beach counties on Florida's eastern coast have a combined population of about 6 million people. Scott advised residents under evacuation orders to leave as soon as possible, to avoid gridlock from last-minute mass evacuation. Gridlock occurred in Houston ahead of 2005's Hurricane Rita, causing more deaths in traffic than from the hurricane itself. South Carolina is also keeping its eye on Hurricane Irma and National Weather Service Charleston urged South Carolina residents to prepare for Irma now while there is still time. Before Florida worries about Jose, it's going to have to withstand Irma first.