What You Need To Know About Whether Hurricane Maria Will Hit Miami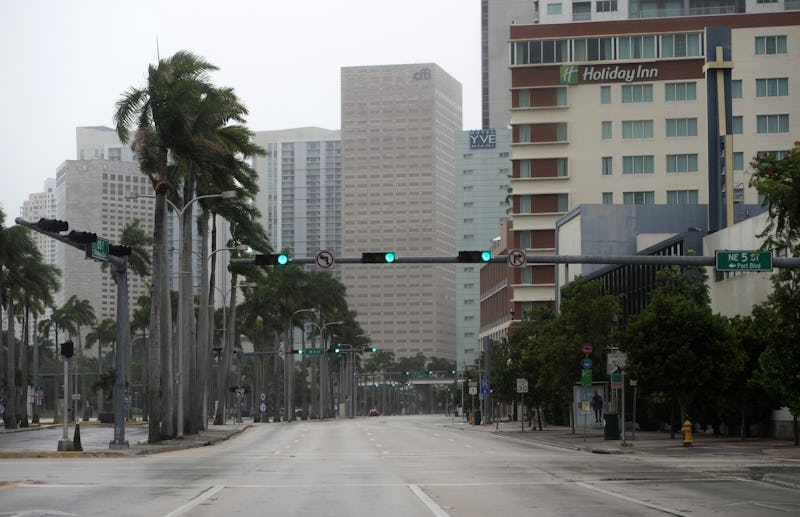 SAUL LOEB/AFP/Getty Images
For the sixth time in a month, the U.S. mainland is preparing for the possibility of a major hurricane. This coming storm has already devastated Puerto Rico, Dominica, and other islands in the Caribbean, making fears of its impact in the continental United States even stronger. Hurricane Maria probably won't hit Miami, but that doesn't mean the East Coast won't feel the effects of the storm.
Miami doesn't seem to be at risk of hurricane damage right now, according to the National Weather Service. The storm is forecast to turn toward the east before reaching the Florida peninsula, then travel north along the United States coastline. Most of the hurricane's effects are predicted to stay in the Caribbean, but Americans from the Carolinas to Massachusetts are encouraged to follow the storm's progress in case they need to prepare for impact.
Maria claimed dozens of lives across the Caribbean, starting with at least seven on the tiny island of Dominica. It hit Dominica Monday night as a Category 5 hurricane; nearly 70 percent of all homes lost their roofs and many buildings were destroyed altogether. "The urgent needs now are roofing materials for shelters, bedding supplies for hundreds stranded in or outside what's left of their homes," a Dominica government official Hartley Henry told NBC News.
The storm then hit the Dominican Republic on Wednesday night at Category 4 strength and dumped up to 30 inches of rain on the island. Felix Delgado, mayor of the northern coastal city of Catano, told the Associated Press that 80 percent of homes in the Juana Matos neighborhood were destroyed by a 4-foot storm surge.
"Months and months and months and months are going to pass before we can recover from this," Delgado told the AP. Thursday.
Maria is expected to regain Category 4 hurricane strength with wind speeds of over 120 mph as it takes aim at the island nation of Turks and Caicos. After that, if it stays far enough to the East, Maria's remaining impact would be minimal.
If you want to help the people affected by this storm, there are several ways to get involved. The best thing you can do is give money to local organizations, such as Unidos Por Puerto Rico, established by the island's first lady. Global Giving is another great option, because they disperse collected funds to local charities that can't afford to get their names out there. AllHands Volunteers has a four out of four rating on Charity Navigator, and you can follow along with how your donation is impacting local communities on their website.
You can also contact your congressional representatives and tell them to provide emergency funding for Puerto Rico. The territory was already struggling from deep financial debt before the recent storms and the federal government denied them help. Now that the island has suffered from so much natural destruction in such a brief period of time, it's unreasonable for Congress to still enforce such austere measures. People on the mainland have to stick up for our fellow Americans in PR and make sure they have the same swift emergency response that FEMA and corporations would provide here.
Florida is still recovering from Hurricane Irma, so the last thing the state needed was another major hurricane. Luckily, Maria seems to be dying down, and the Northeast may be spared the rains altogether. However, just because there may not be danger in the U.S. mainland doesn't mean that people can forget about the storm entirely. With so many natural disasters lately, people need to stay vigilant about supporting victims so that no one is forgotten.