Whether Or Not Hurricane Maria Will Hit The U.S. Depends On These Few Things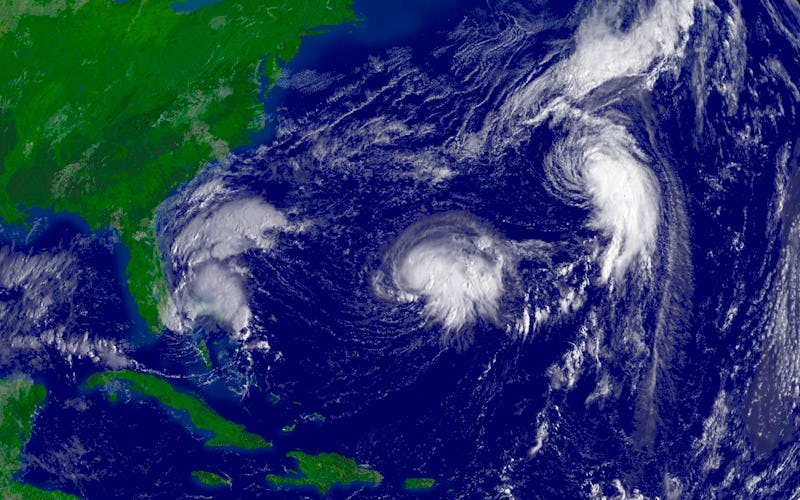 Handout/Getty Images News/Getty Images
It has only been one week since Hurricane Irma ripped through Florida, leaving widespread destruction and flooding in its path. Although Irma has Hurricane Maria could threaten the United States later this week or next, but it is still far too soon to know for sure.
On Sunday, Hurricane Maria was still east of Barbados and southeast of many Caribbean islands. According to The Weather Channel, Maria was moving north and westward toward the U.S. Virgin Islands and Puerto Rico at a speed of 15 miles per hour, bringing winds of 65 miles per hour along with it. Experts predict that the storm system would soon be upgraded to a hurricane and continue to strengthen. To be declared a hurricane, the storm would need to have winds of at least 74 miles per hour.
Before the hurricane prediction was made, The Weather Channel cautioned on Sunday that Maria could strengthen to a Category 3 storm or worse due to warm ocean temperatures and a moist atmosphere. No impacts on the United States have been predicted because the storm was still too far away. If Maria were to hit the United States, the storm likely wouldn't reach the mainland until next weekend or early next week, based on Sunday's predictions.
According to the National Weather Service's projected path for Maria, the storm could strike Puerto Rico on Thursday and Haiti and the Dominican Republic on Friday. Along the way north and westward, Maria is sure to hit other Caribbean islands, such as Antigua and Barbuda. The threat from Maria comes after many of those islands were completely devastated by the powerful Hurricane Irma. Irma left beaches in the Bahamas bone-dry and 95 percent of buildings in Barbuda destroyed. Needless to say, the Caribbean won't be ready for a second powerful storm so soon.
Ultimately, Maria's impact on the United States will be determined by the path it takes to get here. Irma remained strong as it passed through the Caribbean because of its unique path: Hurricanes tend to weaken and dissipate as they pass over land, but Irma skirted coastlines in a way that kept the system strong, while dealing severe blows to the communities on land.
That said, all eyes will be on Maria's path through the Caribbean. A direct hit to some Caribbean islands could devastate the already-damaged communities, but it could also weaken the storm for other areas in Maria's path. If Maria takes a path similar to Irma, though, a hit to the United States could be imminent.
Republican Sen. Marco Rubio warned his Florida constituents on Sunday to prepare for soon-to-be Hurricane Maria "just in case." Like other Florida lawmakers, Rubio has been monitoring the damage done by Irma in the Sunshine State and the rebuilding efforts that are already underway.
Another hit on Florida could be destructive. According to the office of Florida Gov. Rick Scott, flood warnings were still in effect on Sunday for various parts of the state and hundreds of thousands of power outages were still being reported. As utility crews are working hard to restore power, highway patrol troopers are assisting motorists and gas stations are responding to fuel shortages throughout the state. At the same time, Scott has not announced any advisories or warnings for Hurricane Maria yet.
Beyond being destructive, another hit to Florida could be unprecedented. Last weekend marked the first time in history that two Category 4 storms had made landfall in the United States in the same year. Hurricane Harvey struck Texas as a Category 4 storm in August, followed quickly by Hurricane Irma's hit on Florida as a Category 4 storm last week. It's still too early to predict where Maria will go and what strength it will bring, but the threat should be taken seriously no matter what.