Hurricane Irma Is Churning Toward The Bahamas & People Are On High Alert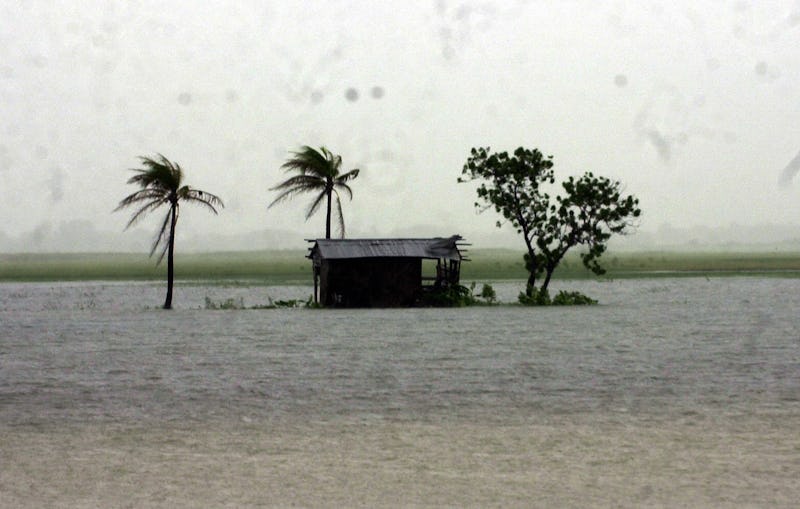 THONY BELIZAIRE/AFP/Getty Images
For those hoping Hurricane Irma would take a late turn back out to the ocean, that possibility now looks all but gone. Its projected path now shows Irma moving toward southern Florida, with other southern coastal states also on hurricane watch. The storm posted the highest wind speeds ever recorded for an Atlantic hurricane, though Irma has now been downgraded to a Category 4. Irma now moves toward the Bahamas, including Freeport, with a hurricane warning in effect for the entire island nation.
Due to the imminent danger posed by Irma, the Bahamas Borco terminal closed yesterday. The terminal is located in Freeport, and its closure indicates authorities have heeded the warnings from meteorologists about the monster storm headed their way.
The threat from Hurricane Irma extends well beyond shattering wind speeds. Storm surge is expected to be a dangerous factor, with the Bahamas potentially experiencing up to a 20-foot surge of water. For an island nation, that would likely mean catastrophic damage. It is all but certain to impact Freeport, though which areas precisely will be hit hardest is not yet known.
Six of the Bahamas' southern islands have received evacuation orders already: Mayaguana, Inagua, Crooked Island, Acklins, Long Cay, and Ragged Island. Residents and tourists in nearby Cuba have also been evacuated from certain areas of their island.
Several people have already been confirmed dead throughout the Caribbean islands hit earlier in the week, and though the full extent of the economic damage is not yet known, it is undoubtedly extensive.
For residents of Florida, an especially dire warning came today from Brock Long, the director of Federal Emergency Management Agency: "It's not a question of if Florida's going to be impacted. It's a question of how bad Florida's going to be impacted."
Even the devastation left behind by Hurricane Andrew in 1992 may not encompass the kind of damages Hurricane Irma could inflict on the Sunshine State. Not mincing any words, Gov. Rick Scott warned, "This storm has the potential to catastrophically devastate our state."
Americans up and down the east coast are also on high alert. Irma's size and strength make this hurricane a historic threat, and its impact could be felt everywhere from Key West to Charleston and beyond.
For those living in Freeport and all across the Bahamas, it is an imperative to immediately evacuate areas where evacuation orders have been issued, and to seek safe shelter as quickly as possible.