James Comey Might Testify On Trump & The Investigation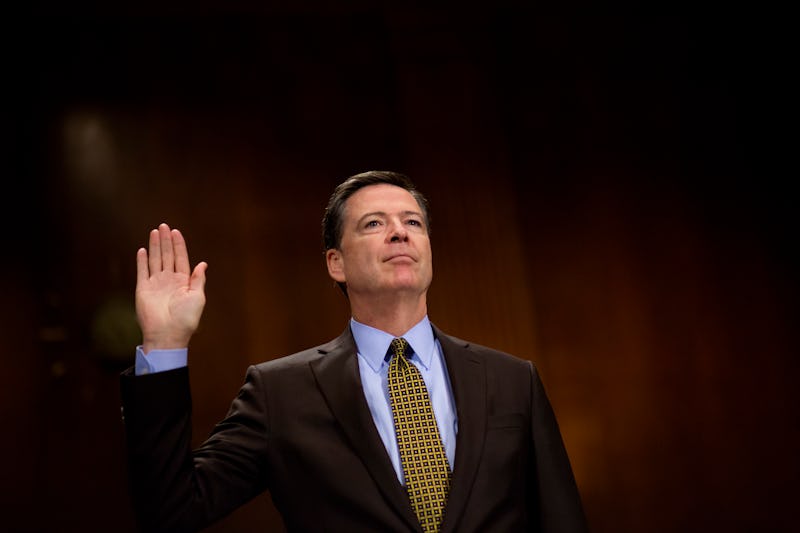 Eric Thayer/Getty Images News/Getty Images
In the midst of allegations that President Trump asked James Comey to end the FBI investigation into former National Security Adviser Michael Flynn's potential connections to Russia, one senator invited the former FBI director to testify in a public hearing. But will James Comey testify on Trump and the investigation? He had previously declined a request to do so.
However, his initial abstention from testifying was when he was asked to testify in a closed Senate Intelligence Committee session Tuesday. The New York Times reported that Comey would be willing to testify — if it were public.
Sen. Lindsey Graham said he invited Comey to testify in an open hearing of the Judiciary Committee. "I've asked Comey to come before the Judiciary Committee to tell his side of the story. I think it would be good for him if he did. It would be good for the country." Rep. Adam Schiff, a member of the House Intelligence Committee, has also asked Comey to publicly testify.
The New York Times dropped a bombshell Tuesday when it reported that a memo Comey had written in February stated Trump told the FBI director, "I hope you can see your way clear to letting this go, to letting Flynn go." Comey reportedly documented many of his meetings, including those with Trump regarding the Russia investigation. Trump fired Comey on May 9, at first citing a recommendation from the Department of Justice, but later telling NBC's Lester Holt, "I was going to fire regardless of recommendation."
The fact that Trump fired Comey, the man who was investigating the president, and the claim that Trump asked Comey to end the Russia investigation raised questions of whether or not Trump had committed obstruction of justice. This, among other allegations, is one topic Comey might be able to provide insight into if he testifies.
Rep. Jason Chaffetz, chairman of the House Oversight & Government Reform Committee, has written a letter to the FBI requesting access to the memo and anything else related to Comey's conversations with Trump. But other congress members, like Graham, want to hear from the man himself.
Comey has yet to state if he will testify, but considering his previous interest in speaking out if the session were open, it seems like America might very well be watching him take the stand.