Why You Shouldn't Expect To See Javier Pena In 'Narcos: Mexico'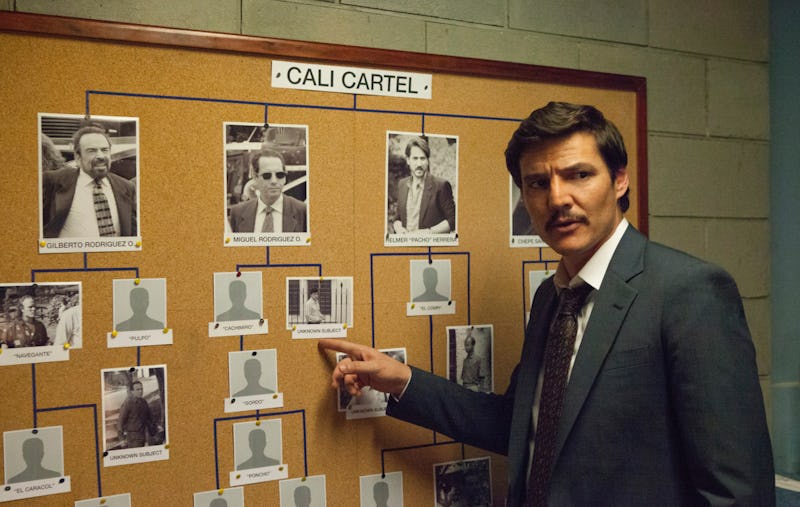 Juan Pablo Gutierrez/Netflix
The new season of Narcos on Netflix is going to look a lot different than viewers have come to expect. Narcos: Mexico won't be about Javier Pena, as it shifts its focus away from Pablo Escobar's legacy in Colombia to turn its eye the Guadalajara cartel in Mexico. But the showrunner, Eric Newman, hasn't written off the possibility of actor Pedro Pascal returning to Narcos.
"He alternated between asking us to kill off his character at one point and then wondering, 'Hey, maybe he can come back.' I'd like to think that he still hasn't made up his mind about whether he wants to come back," Newman told The Hollywood Reporter of Pascal, who played the Drug Enforcement Agency agent. "It is after all an intersecting universe — the Mexicans did a lot of business with the Colombians."
Newman stopped short of saying Pena wouldn't appear at all in Narcos: Mexico, but he would confirm that he wasn't at all the focus. He also said that Pascal has been aware of the plan to move away from Pena's story from "as early as Season 2. "The design was always to finish out the Colombian story and the players that we've come to know there, and then start anew in Mexico," he continued in the same piece
In an interview from last year, Pascal was still unsure if he would reprise his character, but he seemed to be at peace with whatever the decision may be. "I think that they're just really trying to understand the best way into the other worlds that have been suggested to us," the actor told Entertainment Weekly. "So they're being really, really smart about how to go into Mexico — if they do indeed go into Mexico. Because, really, they could just go to Afghanistan, or we could go all the way back in time to the opium wars if they wanted to."
And in an interview with Rappler.com last year, he said he was excited about the opportunities that were opening up for him after he found continued success with Narcos and Game of Thrones. "It was very lucky, it's all really lucky. It's not like I was sitting on my ass waiting for something to happen. I was busting my butt, but I think that the incredible luck for a project like Narcos to come on the heels of a role like Oberyn Martell in Game of Thrones is very lucky," Pascal told the outlet. "There's a golden era of television that's happening, and has been happening for some time. And to be a part of two projects that are good examples of this era is very lucky. I owe everything to these two things, in terms of whatever opportunities come my way now."
Pascal and Agent Pena might not be at the forefront of Narcos anymore, but the story will plug along regardless with new and intriguing plans. "Everything about Mexican trafficking is closer to home. The proximity, the complexity of the relationship between the two countries," Newman said in the above article of Narcos' new focus. "Colombia is a sort of remote place to most Americans, who have never been to Colombia or met a Colombian. It was easier to distance ourself from who we thought were the enemy. Mexico is our neighbor and so the ties are deeper."
Pena will be missed, but don't fret — you never know who could show up again amidst these drug wars somewhere down the line.