Netflix's 'Narcos' Finds Life After Pablo Escobar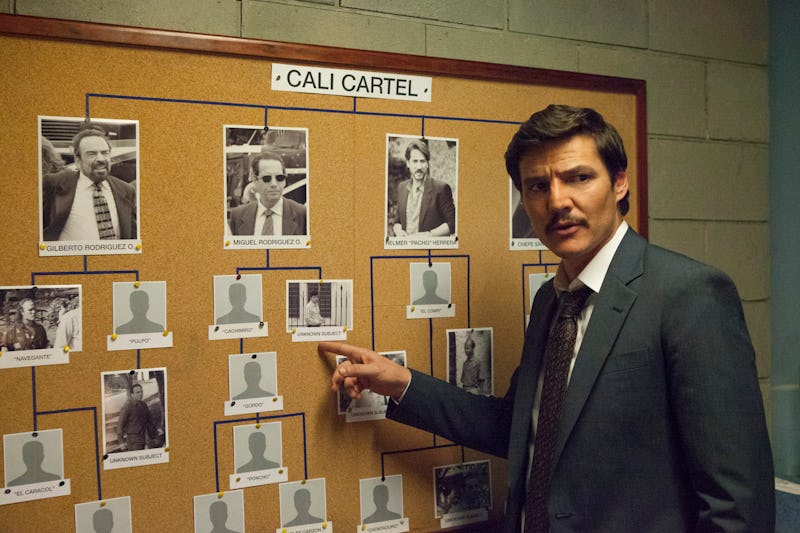 Juan Pablo Gutierrez/Netflix
At this point, Netflix's drug cartel drama is as good at evading death as its oft-imperiled DEA agent protagonists. So when does Narcos return for Season 4? It might have seemed like the end was nigh when the show's main antagonist, real-life cocaine kingpin Pablo Escobar, was shockingly killed off at the end of Season 2. How do you continue your story without its Big Bad?
But the writers found a way, and so Narcos enters a new phase of its existence in the upcoming Season 3, premiering Sept. 1, in which the DEA will now face off against Escobar's drug trafficking rivals, the Cali Cartel. But even with a somewhat unexpected third season on its way, fans would be forgiven for being worried over the fate of the series. Netflix has been on a bit of a cancellation binge lately; shows like Sense8, The Get Down, Gypsy, and Girlboss have all bitten dust over the past few months. Can a series with zero Emmy nominations and relatively low buzz really be expected to survive the streaming service's recent bloodbath?
Well, fans can breathe a sigh of relief: Netflix already renewed Narcos for Season 4, so you can watch Season 3 with some peace of mind — or with as much peace of mind as you can possibly watch drug dealers violently murdering their enemies.
In fact, Netflix had renewed the series for two additional seasons only four days after Season 2 debuted, confirming Seasons 3 and 4 as a package deal. And apparently Narcos isn't just finding a way to continue without Escobar; the show is essentially rebooting itself in the wake of the villain's demise, which must have given Netflix the confidence it needed to give the writers such a big renewal.
"Does the world need another season of Narcos?" Vulture's Will Sommer asked after the surprisingly conclusive Season 2 finale, echoing other critics' thoughts. But Netflix at least believes the answer to be a resounding "yes." The semi-reboot of the series involves not just shifting focus from Escobar to the Cali Cartel, but also the departure of star Boyd Holbrook (Logan), who starred in the first two seasons as Agent Steve Murphy. In his place, Murphy's former partner Javier Peña — played by Game Of Thrones favorite Pedro Pascal — will now claim sole credit as the show's protagonist. The trailers also indicate an emphasis on the actual business of operating a cartel, with Peña saying, "The ran it like a Fortune 500 company."
The gamble appears to have paid off; despite the skepticism expressed at the end of Season 2, some critics — like Complex's Wes Jenkins — are already raving that, "Narcos is even better without Pablo Escobar." If the rest of Season 3 and Season 4 measure up to the Season 3 episodes screened for critics, then perhaps fans could even look forward to a third iteration of the Netflix drama in a couple of years.
But when can viewers expect Season 4 to land on the streaming service? While Netflix hasn't set an official release date yet, this is one mystery that's pretty easy to predict. All three of the show's seasons so far have premiered within a few days of each other: Season 1 was released on Aug. 28, 2015; Season 2 on Sept. 2, 2016; and Season 3 on Sept. 1, 2017. Unless Netflix announces otherwise, it's probably safe to assume that Season 4 will drop sometime around the beginning of September 2018.
Until then, enjoy Narcos 2.0. The blow must go on.