Julie Chen's 'Big Brother' Hosting Days Could Be Coming To An End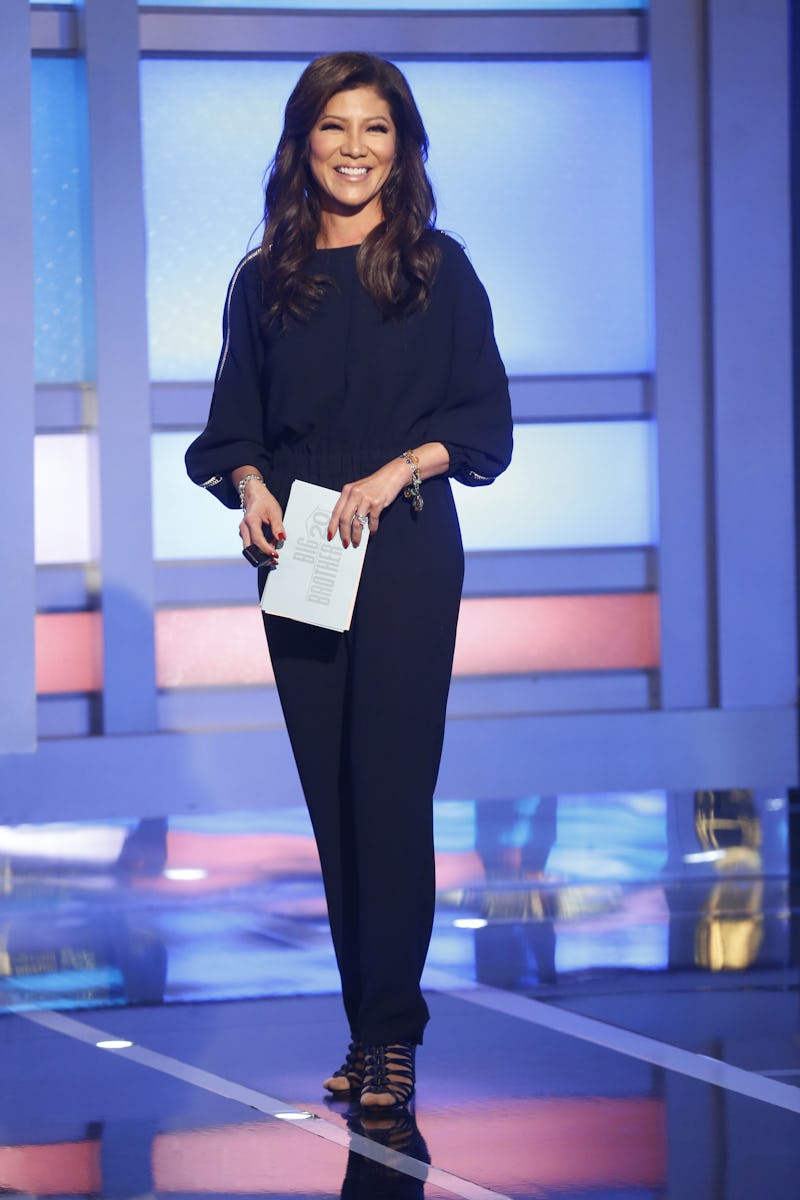 Sonja Flemming/CBS
There could be a hosting shake-up for Big Brother ahead. Julie Chen, who has hosted the show since its U.S. inception in 2000, has just resigned from her role on CBS' The Talk, and the reality competition show could be next. Will Julie Chen leave her Big Brother hosting role? It wouldn't be surprising. (Bustle reached out to CBS and Chen's reps for comment, but has not yet heard back.)
Behind the scenes of her hosting roles, Chen's personal life has been the subject of public scrutiny lately because of several allegations against Chen's husband Leslie Moonves. According to reporting by Ronan Farrow for The New Yorker, Moonves has been accused of harassment, intimidation, and sexual misconduct by several women.
In the wake of that reporting, CBS issued a press release stating that Moonves exited his role as Chairman, President, and CEO of CBS. The network also announced that Moonves and CBS would be donating $20 million in support of the #MeToo movement and women's equality in the workforce. In response to the allegations against him, Deadline reported that Moonves released a statement, which reads in part:
"Untrue allegations from decades ago are now being made against me that are not consistent with who I am. Effective immediately I will no longer be Chairman and Chief Executive Officer of CBS. I am deeply saddened to be leaving the company. I wish nothing but the best for the organization, the newly comprised board of directors and all of its employees."
Chen, who has been married to Moonves since 2004, per the Daily Beast, has stood by her husband throughout this time. When the initial allegations were brought up, she released a statement on Twitter defending the man she knew.
After Moonves' exit from CBS, Chen has continued to stand by his side. She initially even took time off from The Talk — a CBS show — citing her need to put her family first.
"I am taking a few days off from The Talk to be with my family," Chen said in a statement on Sept. 10, according to Deadline. "I will be back soon and will see you Thursday night on Big Brother."
Indeed, she was back hosting Big Brother on Sept. 13, but the way she signed off from the episode could indicate that she may soon exit for good. That's because, when ending the show, Chen made her support for her husband clear — by citing her full name in her goodbye message. She said, "From outside the Big Brother house ... I'm Julie Chen-Moonves, Goodnight."
Since then, Chen decided to permanently leave The Talk. Variety reported that Chen announced her exit in a video message that played during the Sept. 18 episode.
"I need to spend more time at home with my husband and our young son, so I've decided to leave The Talk. I have been at The Talk since the day it started nine years ago, and the cast crew and staff have become family to me over the years. I will always, always cherish the memories we shared. Most important, I want to thank you, the viewers, for allowing me into your home every day. It was a privilege that I will forever be grateful for."
CBS released its own statement to Bustle about Chen's exit, saying:
"For eight seasons, Julie Chen has co-hosted The Talk with incredible energy, grace and professionalism. Her talents played a big role in our successful launch of CBS' first network daytime talk show, and in the series growth into an Emmy Award-winning broadcast. All of us here have tremendous appreciation for the dedication and passion she brought to the show every day and for her generous role as an ambassador for CBS Daytime. We are grateful for her many other contributions, respect her decision and wish Julie all the best in everything she does."
Her leaving The Talk could be a sign of what's to come for Big Brother following the Sept. 26 Season 20 finale. Or, she could even exit sooner and leave the rest of the season's hosting duties to someone else. But, the difference between The Talk and Big Brother is that Big Brother doesn't focus on current events. The rest of The Talk hosts actually discussed the Moonves allegations during an episode, according to Huffington Post. No such thing would ever be brought up during a Big Brother episode, which focuses on the contestants in the house, and where Chen serves to explain the action and conduct exit interviews with eliminated players.
So, it seems likely that she will at least finish Season 20, since she still hosted Big Brother even during her absence from The Talk. She even taped her goodbye message for The Talk on the Big Brother soundstage.
Beyond that, Big Brother has not actually been renewed for Season 21 yet. If it is renewed, it's possible that Chen will then exit to continue to focus on her family and avoid the awkwardness of working for a network that doesn't exactly stand in support of her husband. One thing is for sure, though, she's clearly not backing down on her support of Moonves, no matter what anyone says about him.
If you or someone you know has been sexually assaulted, call the National Sexual Assault Telephone Hotline at 800-656-HOPE (4673) or visit online.rainn.org.