Kim Kardashian Just Spoke Out On Whether She Might Run For President One Day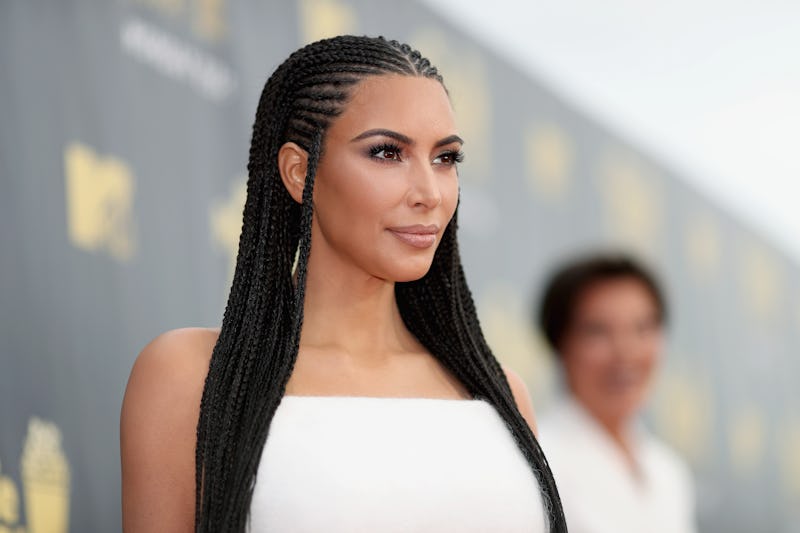 Christopher Polk/Getty Images Entertainment/Getty Images
There's currently a reality star in the White House, and another one says she wouldn't rule out running for the same position. In an interview on CNN with Van Jones, the question came up of whether Kim Kardashian would run for president — and while she didn't exactly say that she was already laying the groundwork of a campaign, she also didn't rule out the possibility.
"Oh, I don't think that's even — on my mind," Kardashian West said when Jones asked whether she'd consider a run for office.
"Trump's president, it could happen," he said after her initial response.
"I know, that's why Kanye loves him, it's the idea that anything can happen," Kardashian West responded, referring to her husband Kanye West's recent very public bromance with Donald Trump. Jones pressed her again, and then she demurred — but she also left the door slightly open for anyone who might think that she deserves a vote.
"I guess, never say never," Kardashian said. "But that's not going to be like a 'Kim's running.' That's not what I'm going for."
This might have seemed like an unthinkable question three years ago — but now, Trump is in fact the president, and he decided to commute the sentence of an incarcerated woman after a meeting with Kardashian, where she advocated for the woman's release.
The experience of advocating for Alice Marie Johnson, seeing her release, and then getting to meet her changed Kardashian's life, she told Jones.
"I honestly saw that if I could use my platform just to do something for one person, that it opens the conversation for so much more and for other people to want to do the same thing," Kardashian told Jones.
According to Cosmopolitan, Kardashian began her career as a stylist and then eventually became a star herself through her reality show, Keeping Up With The Kardashians, and numerous other business ventures, like her perfume line and a video game called Kim Kardashian: Hollywood. Much like the man currently inhabiting the White House, Kardashian has nothing in the way of political or public policy-related experience. Whereas the New York Times reported in 2016 on Trump's history of failed business ideas — which account for about 40 percent of all of his ventures — Kardashian has succeeded again and again. On the campaign trail, Trump repeatedly claimed that his great business sense made him an excellent candidate for president. By Trump's own metric, then, Kardashian would be an even better candidate.
In her interview with Jones, Kardashian seemed optimistic — to the point of sounding idealistic — about how well politics could function.
"If more people would just put their personal feelings aside and talk about really important issues that have to be discussed, then so much more can get done," she told Jones. Her goal for the meantime, she told Jones, is to keep working to free incarcerated women.
"No matter who you talk to, no matter what political party, people feel what's right is right and that's what I love about this, is that it can just be so bipartisan," she told Jones about her work so far towards that goal.
This isn't the first time that she's brought up her passion for the issue. In an interview alongside Johnson on Today, Kardashian said that she "would truly love to be an attorney" if she "didn't have to go for so much school." She also spoke about her experience working on Johnson's case in glowing terms.
"This has, like, fulfilled my heart and so since I feel so fulfilled, why would I stop that?" Kardashian said on Today.