Trump Is Freeing The 63-Year Old Woman Kim Kardashian Asked Him To Pardon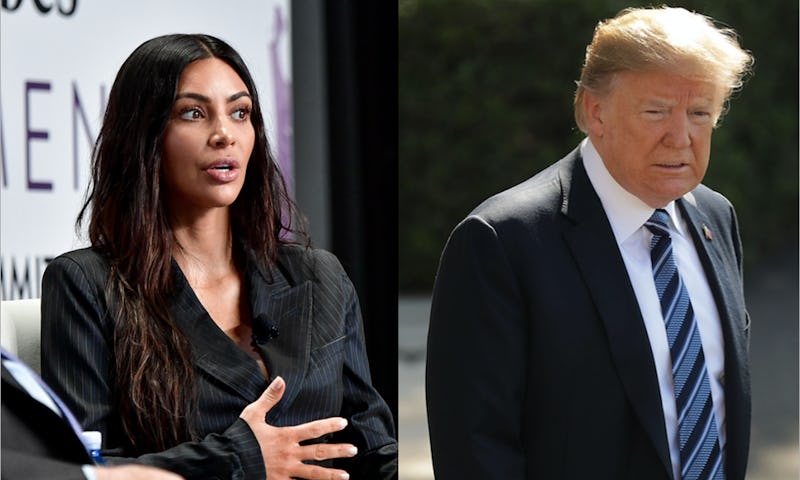 Dia Dipasupil/Getty Images Entertainment; Chip Somodevilla/Getty Images News/Getty Images
Just a week after the president met with Kim Kardashian to discuss prison reform, Donald Trump granted clemency to Alice Marie Johnson. A source familiar with the situation reportedly told Axios that Trump signed made it official just hours after the White House prepared the paperwork for dozens of pardons. Business Insider confirmed this report, citing Johnson's attorney, Shawn Holley.
The Associated Press reported that Johnson has not been pardoned, as initially thought, but her sentence has been commuted. Johnson is a 63-year-old great-grandmother who has served more than 20 years on a life sentence for a first-time nonviolent drug offense. Kardashian initially learned about Johnson's case from a Mic video back in October, and she has since passionately advocated for Johnson to be pardoned. For months, Kardashian engaged in back-channel discussions with Jared Kushner; these discussions culminated in last week's meeting between Kardashian and Trump.
According to the Justice Department's website, there is a significant difference between a commutation of sentence and a pardon. A sentence commutation reduces or eliminates a sentence, but does not imply innocence. A pardon, on the other hand, is "an expression of the President's forgiveness," meaning it would be the government's official position that a person is innocent. In this particular case, Johnson's sentence has been commuted — which means that she will be free — but she has not been pardoned, meaning her conviction will remain on her record and the U.S. government still regards her as guilty on the charges in her sentencing.
According to CNN, Johnson's commutation is Trump's sixth act of clemency since he assumed the presidency. Last month, he issued a posthumous presidential pardon to boxer Jack Johnson following an Oval Office meeting with Sylvester Stallone, Lennox Lewis, and Deontay Wilder. As Vanity Fair noted ahead of the Trump-Kardashian meeting, Trump seems open to clemency requests despite his administration's tough-on-crime stance — especially if those requests come from celebrities.
In a statement released on Wednesday, the White House described Johnson as a "model prisoner":
Ms. Johnson has accepted responsibility for her past behavior and has been a model prisoner over the past two decades. Despite receiving a life sentence, Alice worked hard to rehabilitate herself in prison, and act as a mentor to her fellow inmates. ... While this administration will always be very tough on crime, it believes that those who have paid their debt to society and worked hard to better themselves while in prison deserve a second chance.
The White House also stated that Johnson's warden, case manager, and vocational training instructor all wrote letters supporting her bid for clemency.
After spending months advocating for Johnson, Kardashian celebrated her impending release on Twitter. She also told her followers that she hoped to "continue this important work by working together with organizations who have been fighting this fight for much longer than I have and deserve the recognition."
Kushner, meanwhile, has been silently pushing the White House to prioritize criminal justice reform, according to Mic. Since becoming one of Trump's senior advisers, Kushner has advocated for criminal justice reform. It has been a personal issue for him ever since his father spent a year in prison for tax evasion and illegal campaign contributions, ABC News reported.
Johnson is expected to be released soon from a federal prison in Aliceville, Alabama — just after her 63rd birthday, according to Mic. She has been seeking clemency for years, and was disappointed when Barack Obama did not include her in the mass pardon he issued at the end of his second term. According to CNN, Johnson was just one of at least 30 people for whom the White House had prepared pardon or commutation paperwork.