Why These Democrats Are Urging The Dept. Of Homeland Security Secretary To Step Down ASAP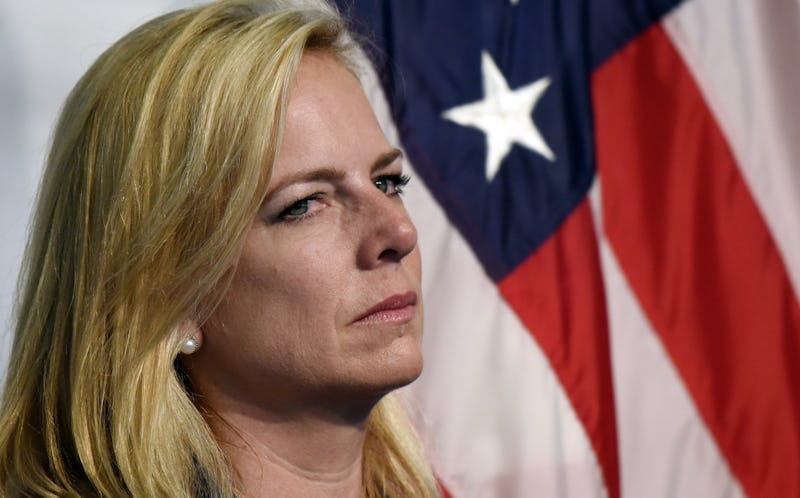 Handout/Getty Images News/Getty Images
As Trump's family separation policy continues to split families apart at the border, Democratic senators want Kirstjen Nielsen to resign from the Department of Homeland Security (DHS), due to her supposed lack of transparency regarding the zero-tolerance immigration policy. In response to thousands of immigrant children being separated from their parents at the U.S.-Mexico border, senators like Kamala Harris (D-Calif.) are saying that Nielsen, the current Department of Homeland Security secretary, should be held accountable for the policy.
On Twitter, Harris condemned Nielsen's complicity in the family separation policy, which, according to CNN, has separated over 2,000 children from their parents since April, when it was implemented.
"Under [Nielsen's] watch, our government has committed human rights abuses by breaking up families along the southern border," Harris tweeted. "And she has ​failed to be accountable to and transparent with the American people."
Though Nielsen has yet to respond to this direct accusation, she recently told reporters that the effects of the policy were being misconstrued, according to CNN.
"We have high standards. We give them meals and we give them education and we give them medical care. There are videos, there are TVs," Nielsen said during a press conference on June 18, even adding, "I visited the detention centers myself."
Nielsen also argued that it was not a specific policy that she and the DHS were enforcing, but rather the law, though she did not specify which law in particular they were enforcing.
Harris isn't the only senator calling on Nielsen to resign, though. In conversation with Igor Bobic from Huffington Post, Dianne Feinstein (D-CA) said that Nielsen was going to be held "historically responsible for this, along with the president."
Additionally, House Minority Leader Nancy Pelosi called on Nielsen to resign after visiting one of the DHS-run detention facilities in San Diego, according to The Hill. During a press conference with other California lawmakers Feinstein and Harris, The Hill reports that Feinstein said, "This is not an immigration issue. This is a humanitarian issue. It's about the children." When a reporter asked what she thought about Nielsen's role in the matter, Pelosi clarified that she thinks she should resign.
In a White House press briefing jointly shared with White House Press Secretary Sarah Huckabee Sanders, Nielsen made several false claims about the source of the family separation policy, according to NPR. The first false claim regards her argument that DHS is now simply enforcing the law; NPR is quick to cite PolitiFact's confirmation that there is no law specifying children should be separated from their parents at the border when seeking asylum.
Additionally, NPR reports that Nielsen falsely claimed that Democrats were to blame for the current policy, despite the fact that Republicans are currently in charge of Congress.
In a tweet on June 17, Nielsen asked for a stop to what she believed was "misreporting" on the behalf of Senate members, press, and advocacy groups. She added, "As I have said many times before, if you are seeking asylum for your family, there is no reason to break the law and illegally cross between ports of entry."
In a series of follow-up tweets, Nielsen clarified that the DHS, in her opinion, "takes very seriously its duty to protect minors in our temporary custody from gangs, traffickers, criminals and abuse." She added that the DHS will only separate a child from his or her parent at a legal port of entry if they believe that child "is in danger, there is no custodial relationship between 'family' members, or if the adult has broken a law."
Trump's family separation policy has been a topic of controversy for weeks. Recently, audio revealing the sounds of children screaming as they were taken from their parents at the border enraged citizens and lawmakers alike.
If you want to donate to immigration rights organizations that are working to protect the rights of immigrant families seeking asylum in the United States, you can check out a long list of worthy organizations here.