Netflix's New Mexican Dramedy Is All The Plans You Need This Weekend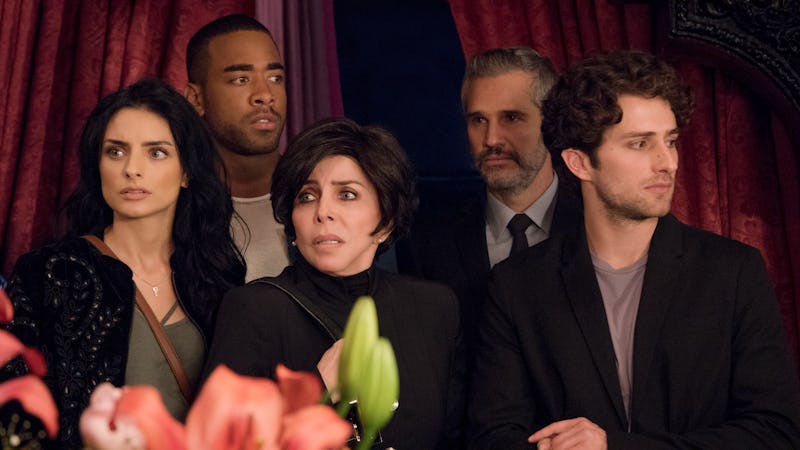 Javier Ávila/Netflix
If you're looking to expand your TV habits to include global content, you can pretty much count on running into intriguing options on Netflix. The streaming service has been adding plenty of internationally produced series and movies, one of which is La Casa de las Flores, which premieres Aug. 10. So will La Casa de las Flores return for Season 2?
It doesn't appear that there's been any kind of official Netflix order for a Season 2, especially since the powers that be will likely want to analyze viewership numbers once it actually debuts, but the Spanish language series — whose title translates in English to The House of Flowers — does have some people on social media excited even ahead of its premiere. Some viewers have even made a point to express their appreciation for Netflix releasing the show globally and not just on its platforms in Spanish speaking countries.
The premise of the show definitely seems like it'd have wide appeal. According to Netflix's press site, La Casa de las Flores is a "dark comedy" about a man who brings the children he shares with his late mistress into his and his wife's home. As if that weren't unfortunate enough of a situation, his wife had no idea that any of these people existed in the first place. Yikes.
According The Motley Fool, a website focused on business and investments, Netflix's international content isn't just an easy way for viewers to immerse themselves in other countries' pop culture — it's also lucrative in terms of profit and increasing viewership.
The outlet reported in July that in interviews with analysts, Netflix Chief Content Officer Ted Sarandos noted that international shows like Rain out of Denmark, and Dark out of Germany, are both "incredibly relevant in their home territories," and popular with a global market. Netflix has also stated that Dark was "viewed by millions of members in the US and has outsized watching throughout Europe and Latin America," according to the same article.
This kind of data presumably bodes well for newer programs like La Casa de las Flores — if viewers worldwide aren't tending to solely gravitate toward content produced in their own country, it gives an opportunity for shows that might otherwise only reach a local market to appeal to a much bigger audience.
Last year, Decider's Kayla Cobb wrote a piece entitled "Netflix's International Content Is Making Me A Better Person." She wrote that shows like Netflix's Colombian-focused Narcos "has inspired me to further research these stories and these storytellers. It's given me a broader understanding not only of what television can be but about what stories are important to what cultures. It's also given me some truly excellent shows that I can happily recommend to friends."
She's not alone. Viewers have praised Netflix's original international content as well as the shows the company has received rights to stream. "One of the best things about Netflix is the wide variety of international programming they have been acquiring rights and translations to," wrote Reddit user Administrative_Camel in a discussion post about Netflix's international additions.
"Been liking a lot of the foreign content coming into Netflix these days," another user, ShadsuX, wrote in a post discussing new Spanish content. "Some damn good stories." And, in a thread asking users to name the best foreign TV show they've seen recently, Netflix selections saturated the discussion.
So, given the overall reception of Netflix's international projects, a second season of La Casa de las Flores seems like it's definitely in the cards, and so is the likely possibility of other similar shows popping up alongside it. Netflix is obviously a force to be reckoned with in the world of streaming entertainment, and its willingness to host programs from across the world just seems to be solidifying its place at the top.