Here's How 'Long Island Medium' Will Address Theresa & Larry's Shocking Split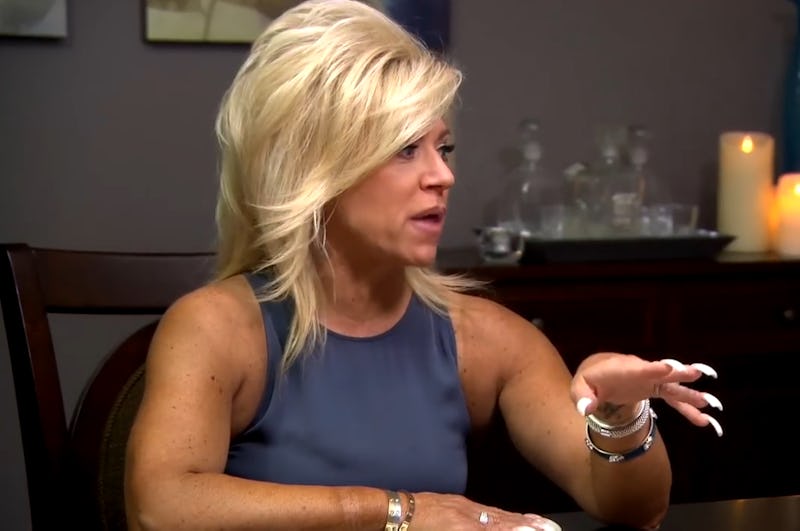 TLC
Theresa and Larry Caputo have been the marital anchor of Long Island Medium throughout its seven-year run. But now nearly a year after they announced their split and with Season 13 looming, it's not entirely clear where they stand. Or, for that matter, how much Larry Caputo will be on Long Island Medium.
A preview for the upcoming episodes does feature Larry, so viewers can expect him to be featured in at least some capacity. How frequently he'll be around, however, is a different story. According to People, the Caputos officially separated in 2017 after 28 years of marriage, and after raising two now-grown children together. It was a shocking reveal for many of the show's fans, who thought the pair were unshakable, though their issues had certainly been covered in the past.
"After 28 years of marriage, we have decided to legally separate," their joint statement read, per People. "We will always love each other and our two wonderful children. We are united in supporting each other and our family. Please respect our privacy during this time."
The clip certainly makes it seem like they're no longer seeing a lot of each other; Before the meet-up featured in the preview, Theresa says she hasn't seen her ex-husband in about nine months. TLC also posted a video on the network's official Twitter account, found below, teasing more of the sit-down the former couple shares.
Whether Theresa and Larry will address all the intimate details of their breakup remains to be seen, but the medium says in the video that their relationship "just wasn't working."
And in yet another trailer released by TLC, Theresa and Larry shared more insight about how tough the decision was for both of them. "Naturally I [spoke] with my children, and I know this is hard for them," Larry said before breaking down crying. Added an equally tearful Theresa: "The hardest thing I have to do is move forward, and do it without Larry."
Larry also provided an update to TMZ in late June, telling the website that they were going ahead with a divorce. "The separation was a three-month trial period and we've moved on from that point. We're in divorce proceedings so that's been going on for the past six months," he said. "It's not finalized. I don't know when it will be but that's where we're at. I'm doing fine. I know she's doing well. I'm happy. We've moved on with our lives."
It's clear that this wasn't an easy decision for either of them, but unfortunately, sometimes things just aren't meant to be. Those looking for a little more closure will be able to start recovering alongside the Caputos once Long Island Medium returns. Even if Larry is scarce from here on out, he and Theresa's history isn't being swept under the rug, and hopefully this will allow them and their fans to move forward together. After the issue is addressed on the show, all that'll be left to do is look to the future.