Lin-Manuel Miranda Has A Good Reason To Attend The VMAs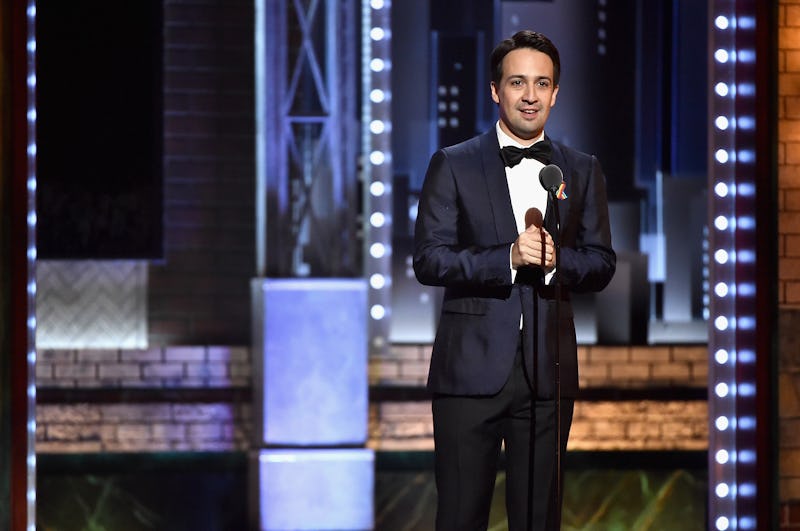 Theo Wargo/Getty Images Entertainment/Getty Images
The 2017 MTV Video Music Awards are just around the corner and the question on everyone's minds is: What surprises are in store for this year's show? Will Miley Cyrus partake in some new dance craze à la her 2013 "Blurred Lines" twerk? Will Lady Gaga try out some new food-themed fashions? Or, perhaps, will Lin-Manuel Miranda attend the VMAs to celebrate Hamilton?
The music video for "Immigrants (We Get The Job Done)" by K'naan featuring Snow Tha Product, Riz MC and Residente debuted earlier this summer and is nominated for a VMA in the Best Fight Against the System category. The song is off The Hamilton Mixtape and inspired by "Yorktown (The World Turned Upside Down)" from the original musical. It takes an artistic look at the experiences of those who come to the United States looking for better lives, but instead find they must work harder and still be met with poor living conditions and animosity in their new country.
A week before the VMAs, Miranda was in Los Angeles to help kick off the Hamilton run at the Hollywood Pantages Theatre. He even joined the cast for a medley performance in front of the theater doors. While in California he also made an appearance and performed in a crosswalk musical on The Late Late Show with James Corden.
But will he make it back to LA for the VMAs? As of the Monday before the award show, he appeared to be back in New York City to view the solar eclipse. He could still very well make it back to the west coast in time for the ceremony, and a surprise performance of "Immigrants (We Get The Job Done)" would certainly be exciting for everyone.
As of now the list of performers at the VMAs doesn't include any of the crew who created "Immigrants (We Get The Job Done)" but we are hopeful there might be some little surprises sprinkled throughout the show. Miranda has made appearances at award shows in the past to promote his projects, from the Oscars to the Grammys, so it is not out of the question that he might show up to the VMAs too.
Miranda's last big appearance on an award show was as the presenter for this year's Best Musical at the Tony Awards in New York. He also appeared at the previous years Tony's to great fanfare, with Hamilton winning 11 awards, including Best Musical. Maybe Miranda would make a special trip to see the streak continues should The Hamilton Mixtape walk away with a VMA of its own.
The question still remains, but we hope to be pleasantly surprised.