AMC's Startup Series Could Be On The Verge Of A Shutdown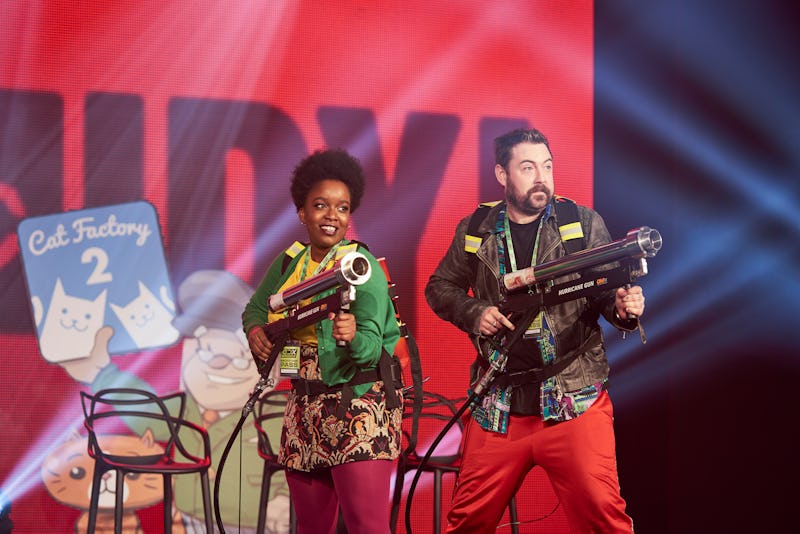 Kevin Baker/CH4/AMC
The lives of the wealthy are a popular subject for television shows — just look at Dallas, Gossip Girl, Billions, any of the Real Housewives shows, and… well, I could go on and on. But this season, the AMC series Loaded has proved that there's also plenty to mine from the lives of people who are newly rich and don't know how to deal with their sudden windfall of cash... especially if they're giant nerds. The season finale airs Sept. 4, but will Loaded return for season 2?
Unlike most of AMC's other scripted series, Loaded was produced by another network. The British network Channel 4 first premiered it on May 8, 2017, just a few months before it made it to American television in July. So no matter how much fans in the States might have loved the first season, it's mostly up to TV executives across the pond to decide the fate of this dark comedy.
Unfortunately, however, it seems that not many British viewers dug Loaded. The day after the first episode of Loaded aired, Metro rounded up a group of TV viewers on Twitter who didn't have great things to say about the show. One user called it "absolute rubbish," and another said "it didn't feel like a comedy at all." Yikes.
But those are just the haters on Twitter — what about the ratings? The news isn't so great there either, sadly; Chortle reported that the show's premiere episode only attracted 500,000 viewers, which only makes up about 3.5 per cent of the total audience in the UK, and about half the average that Channel 4 has been getting for that timeslot over the course of the past year.
Over at AMC, the ratings aren't that much better; according to TVSeriesFinale, the first episode opened at 276,000 viewers and started dipping after just a few weeks. That's definitely no where near the level that shows like The Walking Dead get every episode, but it's actually not that far off from Halt And Catch Fire; the final season currently averages a little over 300,000 an episode. However, that doesn't shake the fact that Loaded is now the lowest-rated show on the network, and other shows that achieved higher ratings this season — like Feed The Beast, which started much stronger than Loaded, have already been cancelled. So things might not be looking good.
My advice: don't get your hopes up that there'll be more from the Cat Factory boys next season. Right now, it seems like eight episodes might it for Loaded and its new-money bros.