You'll Want 'Loaded's Cat App On Your Phone Immediately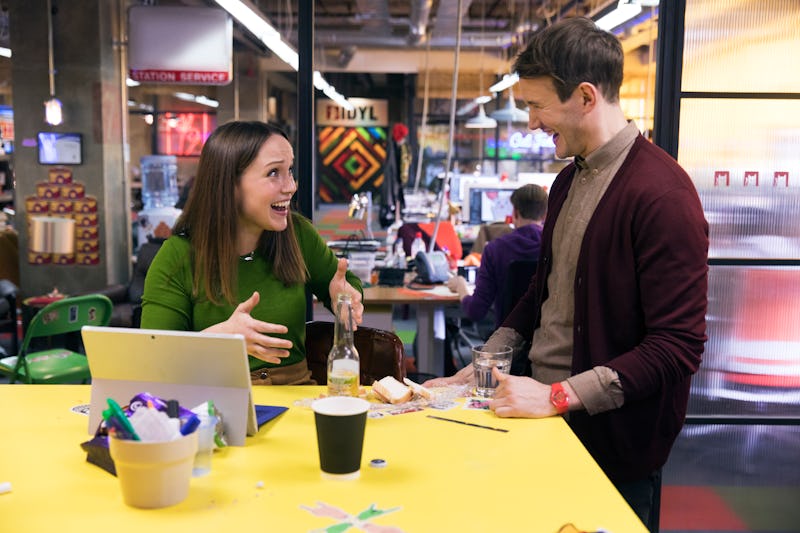 Colin Hutton/CH4/AMC
Beyond providing you with hours of mindless entertainment, apps can make a lot of money for their creators. The new series Loaded, premiering on July 17 on AMC, tells the story of four British friends who become millionaires after they sell their phone game to an American company. The money-making game for these guys is the app Cat Factory. In the trailer for Loaded, Josh — one of the creators of Cat Factory — says, "No one deserves millions for a cat game that moms play on the toilet." With such a ringing endorsement, you may just want to try the app out for yourself next time you're in the bathroom — whether you're a mom or not — so is Cat Factory from Loaded a real app? Unfortunately, if you search for Cat Factory in Google Play or Apple's App Store, you'll find out that this million-dollar idea is pure fiction.
Before hitting American TV, Loaded aired in the U.K. on Channel 4. So in its review of the first episode, The Telegraph compared the British series to Silicon Valley and described Cat Factory as, "an Angry Birds-alike [sic] game." While Loaded doesn't show how it's played, the graphics for the game feature adorable cats and at least one human character who's drawn in a way that is reminiscent of the characters in Candy Crush. With apps like Angry Birds and Candy Crush getting their own movies and game shows, it's no surprise that a scripted show would use them as inspiration to highlight the type of incredible success that these app creators experience. And just like Silicon Valley's Pied Piper and its spin-offs, Cat Factory was made specifically for Loaded and is sadly not real.
While there's a game called Kawaii Cat Factory that user SamSock posted on an Android Authority message board, it doesn't appear to be available in the U.S. on the Play store. And although there are many apps that feature "cat" or "factory" in their names, there is no amazing game that allows you to build cats in a workshop (which is just what I assume Cat Factory has you do since it's not specified in Loaded). And actually, when you search for "Cat Factory" on Google Play, the first app that pops up is the extremely popular game about cats — Neko Atsume: Kitty Collector.
There's also a real-life app developer called White Cat Factory, but the company that friends Josh, Leon, Ewan, and Watto founded in Loaded is called Idyl Hands. Not surprisingly, Idyl Hands is also made just for the TV series.
If the money that these four friends earn in Loaded really makes you crave playing the game, play one of the many cat-themed apps that truly exist in the world. But really the best way to gain insight into what Cat Factory is all about — even if you never get to play it — is by watching the shenanigans that the creators of the app get into on Loaded.