Maame Biney Won't Advance At The Olympics — But Her Reaction Is Gold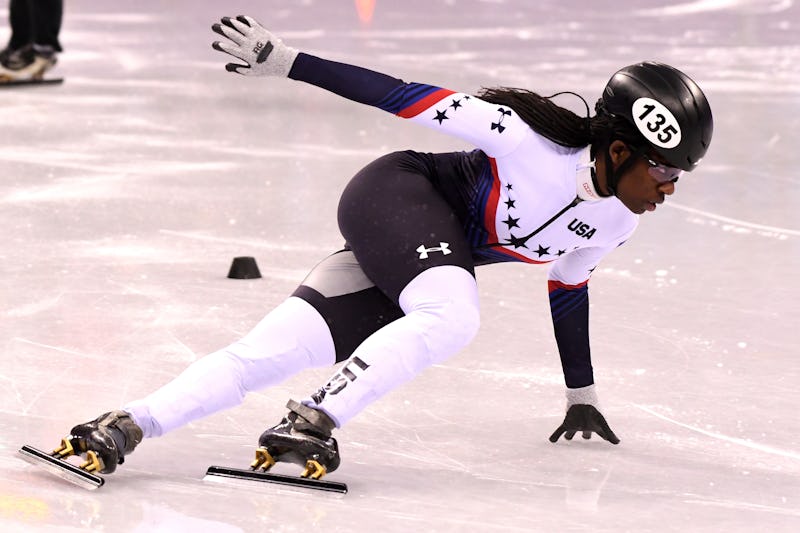 Harry How/Getty Images Sport/Getty Images
The 18-year-old Virginia native made history when she became the first black woman to make the U.S. Olympic speedskating team a few short months ago. And although Maame Biney won't advance to the semifinals in the 500-meter race, her attitude about the setback will put a smile on your face. Biney's unfiltered excitement throughout the 2018 Winter Olympics has been contagious — even from across the globe — so it's no surprise she had an optimistic outlook on Tuesday's loss.
After advancing to the quarterfinals in women's short-track speedskating, Biney came in fourth in the four-person 500-meter quarterfinal race on Tuesday. Her 44.72-second finish time put her 1.235 seconds away from advancing. One second may sound trivial, but speed is the name of the game, after all.
"It's okay. I'll be fine," Biney told reporters through tears following the event. "I just have to wait four more years to be able to get back into this big stage. I can't wait 'til those four years."
Her Olympic journey isn't over just yet, though. Biney will still compete in the 1,500-meter race on Saturday. Although the 500-meter is her best event, she'll have one more shot at winning a medal in PyeongChang.
Biney's fourth-place finish in the 500-meter race was largely due to a bad start. As she took off from the starting line, she felt a bump from neighboring Russian skater Sofia Prosvirnova, putting Biney behind her competitors right away. "I don't usually get bumped in the start, so it was a big shock to me," she told The Washington Post.
Just 17 years old when she made the U.S. Olympic speedskating team, Biney realizes there's plenty of time to learn from her mistakes and one day take home an Olympic medal. "I'm still young," Biney told The Post. "I've learned that I just can't afford to underestimate anyone, and I just have to go out there and do my best." Biney added: "I feel like for more experienced racers, they get back in the rhythm very quickly. But since I'm so young and don't have that much experience, I've got to figure out how to get into that rhythm quickly."
Biney started skating after moving to Virginia from Ghana when she was 5. Her dad told NBC News last year that they had no idea what skating was when they moved to the states, but somewhat randomly discovered Biney's talent. "We weren't looking for anything, we were just driving around," he said. "She didn't even know what skating was. She didn't even know what that word was, and I explained it to her." He added: "Only thing cold in Ghana is cold beer."
She's come a long way from not knowing what skating entailed to competing on an international stage. Not only was Biney the first black woman to qualify for the American speedskating team, but she was also the second person born in Africa to compete for the United States in the Winter Olympics, according to NBC News.
Since stepping foot in PyeongChang, Biney has radiated enthusiasm for her sport. "I was so ready to go out there and kill it," she said Tuesday.
The 18-year-old's attitude naturally drew fans to root for her success, and her response to falling short of the 500-meter semifinals will likely only make them worship her more. Nobody likes a sore loser, but Biney's determination to come back and outperform herself at the next Winter Games proves her resilience. Not to mention, she'll have four whole years to perfect her resilience on the ice, should she face any unexpected bumps at the 2022 Winter Olympics.