Maggie Won't Be Happy About This 'Grey's' Relationship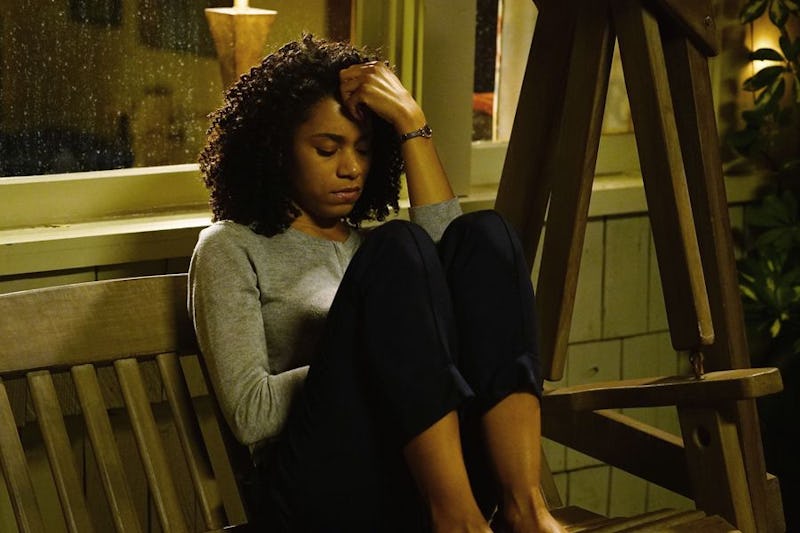 Richard Cartwright/ABC
Meredith and Riggs have finally decided to give things a go on Grey's Anatomy, and while I'm happy for them, I'm thinking of one particular Grey Sloan employee that won't be — Meredith's half-sister, Maggie. She had a thing for Riggs in Season 12, and while I'm not sure that she still has feelings for Riggs, I don't know if she'll be appreciative of this budding relationship. Will Maggie find out about Meredith and Riggs on Grey's Anatomy?
How could she not? Previews for the April 27 episode make it seem like she realizes it, and fast. Just a little stroke of Meredith's arm on the behalf of Riggs and boom — Maggie can't forget. That little loving touch seems small, but it speaks volumes on the fact that Riggs and Meredith's relationship is more intimate than that of coworkers or even friends. Maggie's going through some stuff right now (her mother just died very suddenly), and my guess is that she'll take Riggs and Meredith's relationship a lot more seriously and personally than she would have if everything in her life was hunky dory. I get it. Maggie is hurting. But it sucks for Meredith and Riggs, who are actually a good match together. Maggie is too bright and cheery for a man like Riggs. He is damaged and Maggie is not damaged. But you know who is? Meredith.
Maggie's probable hurt feelings are understandable, and to Meredith's credit, she really did try her best to save Maggie from all of this. She held back for a long time, even when Riggs was begging her to give him a shot. The best chance that these three have for a stable, loving, back-to-normal relationship is to talk it all out like Arizona and Webber did and then wait for time to pass by so it's not so awkward anymore. Time really does heal everything, and Maggie will find her Prince Charming eventually (I'm still waiting for Deluca and her to come back together).