'Making History' Is Staying In The Past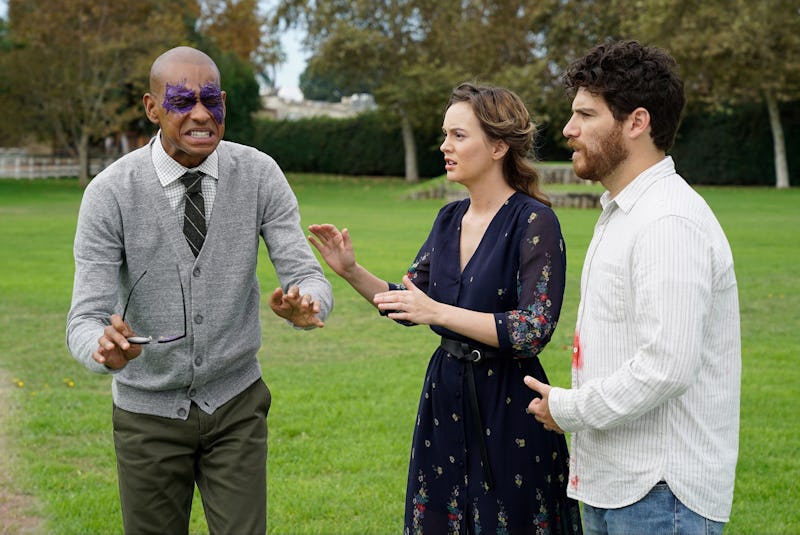 Jennifer Clasen/FOX
Who hasn't wished that they could go back in time to knock some sense into historical figures, take advantage of future knowledge, or stop themselves from making an embarrassing mistake? That universal desire makes FOX's Making History one of the most relatable comedies on TV, even though most fans probably don't have a gym bag that doubles as an honest-to-goodness time machine. After its Season 1 finale, however, Making History won't return for Season 2, which is disappointing news. According to Deadline, FOX cancelled Making History shortly before the finale, not giving the writers enough time to wrap up the series or change the ending.
But while the comedy never really got the chance to find its groove, its cast won't be slowed down by this unfortunate news. One of the best parts of Making History was the combination of stars from Happy Endings, Girls, Broad City, and, of course, Blair Waldorf herself all joining forces, with about a dozen more hilarious stars stopping in for guest spots on the series. So while Making History won't have the chance to make any new memories, this cast is so busy and so talented, you won't have to wait very long to see more from them.
Adam Pally
In addition to guest roles on The Mindy Project, Regular Show, and Animals so far this year, Pally is featured in two films that are due to be released this year: Band Aid, a drama about a couple who work through their issues by starting a band; and The Little Hours, a period comedy about raunchy nuns.
Yassir Lester
This was Lester's first series-regular role, but he's been a writer on a few TV series before, including Girls and The Carmichael Show. Hopefully, Lester returns to writing or find another TV project to act in, but in the meantime you can still see him performing live and listen to his comedy and shoe podcast My Brother's Sneaker.
Leighton Meester
I don't care what Dan Humphrey says, Meester will always be the real Gossip Girl to me, and it was great to see her back on TV every week. This was her biggest TV role since Gossip Girl ended, and it doesn't seem like she's following it up with anything else just yet.
John Gemberling
He's played a terrible roommate on Broad City and a Founding Father. The next project for this comedian and frequent podcast guest is probably playing John Belushi in Netflix's A Futile & Stupid Gesture, the history of the early days of National Lampoon. The release date is still unannounced, but it's due to premiere in 2017.
Neil Casey
In addition to playing Sam Adams on Making History, Casey played Andrew Jackson in a recent episode of Comedy Central's The President Show. Casey has also played Mary Trump on the series, so he could continue to recur in various roles, the same way he played various parts in the current season of Animals. And Casey will also be in A Futile & Stupid Gesture later this year.
Making History didn't really get to make any of its own, but this cast will continue to make audiences laugh in the roles they have lined up for this summer and beyond.